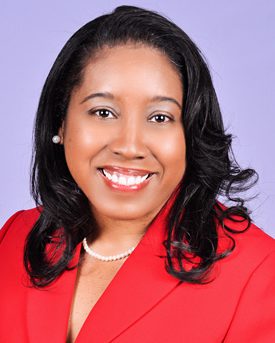 I greet you with a True Blue spirit that makes up that Tiger Pride of Jackson State University and welcome you to the online community of the National Alumni Association. It is my distinct honor to serve as the18th President of the JSU National Alumni Association.
JSUNAA is made better when dedicated members come together for a common goal and our new leaders are committed to working as a team to Align, Bridge and Collaborate for the advancement of ONE JSU. Your First Vice President, Dr. Earlexia Norwood, Second Vice President, Mrs. Tarita Davis, and I are excited about bringing new and dynamic initiatives to the Association.
Proverbs 29:18 tells us that where there is no vision, the people perish. Our vision is that all Alumni would be inspired and empowered to commit and connect to the University. Now is the time for us to fulfill that vision.
Our goal is to put the ABC plan to into action while simultaneously working on our internal infrastructure to strengthen the organization from the INSIDE OUT. The 2014-2016 Executive Board has been hard at work preparing for the new fiscal year (July 1 to June 30) and, with your support, we are ready to:
develop strategies to give the Association a stronger voice with a greater presence on the local, state, national and global level,
engage alumni from every generation and geographic location,
ensure that student recruitment & retention remains a top priority at all times,
establish and maintain strong lines of communication with the university,
fortify our governing documents,
galvanize our financial resources,
improve our record keeping and data management systems,
invigorate our Mississippi alumni base which represents the greatest percentage of our membership,
launch unique and sustaining fundraising initiatives,
polish the public image and perception of the association.
Wherever you are, whatever stage of life you are in, there's something here for you. I encourage you to explore all that we have to offer to stay connected and make JSUNAA stronger. Please share and use this site as one of the many ways to engage with the Alumni Association and maintain your personal connection to the University.
At the same time, I would challenge you to think of ways you can give back to the University to whatever degree you are comfortable. I do not mean just monetarily, though that is always welcome. There are many ways to give back, from mentoring to volunteering time to joining your local alumni chapter. You'll be amazed at how rewarding your experience will be.
I look forward to working with you and for you as we write the next chapter of this Alumni Story. Because you possess qualities of integrity, teamwork, vision and true blue love for Jackson State, I invite you to join us on our journey into greatness. As we travel on this journey, we will do so with an agenda of EXCELLENCE for the coming term.
Together, we will Align, Bridge and Collaborate for the advancement of ONE Jackson State University through the National Alumni Association! We can do this! It's As Easy As ABC!