Keydron Guinn, PhD
June 6th, 2017 by giving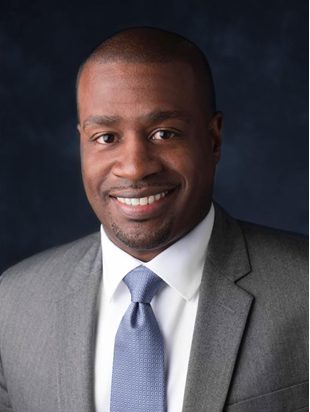 Keydron K. Guinn, PhD, serves as Vice President and Chief of Staff at the State University of New York (SUNY) Downstate Medical Center. Dr. Guinn reports directly to and serves as a principal deputy for management, policy and lead advisor to the President. As a member of the executive leadership team and President's cabinet, he works closely with other senior executives, Deans of the Colleges and Schools and serves as senior liaison for internal/external partners including: The Arthur Ashe Institute for Urban Health, the Brooklyn Center for Health Disparities and other institutional and community leadership organizations. He is a lead representative for the Downstate campus to the SUNY System and has oversight for several institutional functions and units. He also holds an associate professorship in the School of Public Health, Department of Health Policy and Management.
Prior to his current role, Dr. Guinn served as Associate Dean in the College of Liberal Arts at Morgan State University where he was responsible for administrative functions and student affairs issues. He assisted in the management of 11 academic units, development of the College's budget and served on numerous committees and initiatives throughout the University. He taught in the graduate sociology program at Morgan. Before joining Morgan, he served as Interim Dean in the School of Social and Behavioral Sciences at Solano Community College in Fairfield, California where he overcome a departmental deficit and managed five academic departments.
He has held leadership roles at Meharry Medical College (Nashville, TN), serving as Deputy Director and
later, Interim Executive Director of the Robert Wood Johnson Foundation Center for Health Policy at
Meharry. In this role, he led a staff of eight, coordinated the Center's national research agenda and
worked closely with the National Advisory Committee (consisting of academic thought leaders in health
policy from renowned institutions such as: Meharry Medical College, Vanderbilt University, the University
of North Carolina at Chapel Hill, the University of Michigan, and Johns Hopkins University, to name a
few). He also managed an operating budget of nearly $4 million.
With the joint appointment of Assistant Dean in Meharry's School of Graduate Studies and Research, Dr.
Guinn helped to establish a certificate in health policy and led efforts to explore online academic
programs. He also held associate professorships in the Schools of Dentistry (Dental Public Health) and
Graduate Studies & Research where he taught courses in health policy and geriatric dentistry,
respectively.
Prior to Meharry, Dr. Guinn served Southern University's Agricultural Research & Extension Center
(Baton Rouge, LA) as Rural Sociologist and later, Interim Director of the Southwest Center for Rural
Initiatives (Opelousas, LA) managing a state earmark of $750,000. He was responsible for community
programming that lead to educational programs for the seven-parish region related to heir property, endof-
life issues and numerous youth programs. Additionally, he taught graduate courses on the main
campus of Southern University in Baton Rouge, LA.
Dr. Guinn's career prior to higher education consisted of positions in non-profit and local governmental
organizations. These included the NAACP where he was a national staffer in the Health Advocacy
Division (Baltimore, MD) and the City of Jackson, MS holding the title of account executive with the
Jackson Convention and Visitors Bureau.
He is a former columnist who has published a host of editorials on social issues that have appeared in
several Gannett newspapers, the Vicksburg Post and the Louisiana Weekly. He has also published
academic works in the American Journal of Medicine and the Journal of Extension. Dr. Guinn has
delivered numerous public speeches an array of topics at national conferences around the country
including: American Public Health Association, Association of American Medical Colleges, American
Sociological Association, Association of Black Sociologists and the Southern Rural Sociological
Association.
A 1998 and 2001 graduate of Jackson State University, he received the BS and MA degrees in criminal
justice and sociology, respectively. He went on to earn the PhD at Wayne State University in medical
sociology (Detroit, MI). He is an active member of Alpha Phi Alpha Fraternity, Incorporated and the
Jackson State University National Alumni Association. The Port Gibson High School (Port Gibson, MS)
graduate is currently completing the MBA at Missouri State University (Springfield, MO).