Paul Williams
July 24th, 2019 by alumni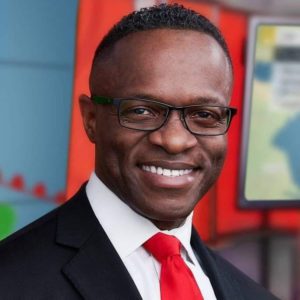 Paul Williams
Delmarva (Milton, DE) – Draper Media announced today the addition of Paul Williams as Chief Meteorologist for WRDE-TV and Spanish-language Telemundo Delmarva. "People on Delmarva can count on Paul for an accurate and interesting weather forecast. His three decades of forecasting experience, combined with his ability to communicate in both English and Spanish will serve audiences for both our NBC and Telemundo affiliates," said Craig Jahelka, president of Draper Media. Mr. Williams holds the American Meteorological Society Seal of Approval. Most recently he was Senior Meteorologist for AccuWeather, based in State College, PA. There he organized and directed weather coverage for The Accuweather Network, seen in more than 60 markets and on ABC's World News Now. He holds a Bachelor of Science degree in Meteorology as well as a Bachelor of Science degree in Physics and Mass Communications from Jackson State University. He also holds a Bachelor of Science Degree in Bible/Counseling from Magnolia Bible College.
"I'm thrilled to be a part of the WRDE/Telemundo team! For me, being here means that I am not only a member of the community, but a servant, eager to put my years of experience at the community's disposal," said Williams. "I look forward to meeting and connecting with the team and community at large."
Paul Williams joins co-anchors Madeline Overturf and Matt Pencek on the anchor desk at WRDE-TV this fall with Coverage You Can Count On. He'll also work closely with WBOC's Storm Tracker Weather Team to provide life-saving emergency weather information when events warrant.Draper Media, based in Salisbury, Maryland consists of WBOC-TV, FOX21, WRDE-TV, Telemundo Delmarva, Antenna TV, MyCozi TV, WBOC Digital, WBOC-FM, WAAI-FM, WTDK-FM, WCEM-FM and WCEM-AM with additional studios in Cambridge, Maryland, Dover and Milton, Delaware.