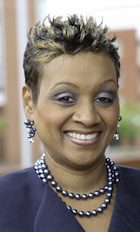 Dear Jackson State University Alumni and Friends:
The Department of Alumni and Constituency Relations develops, coordinates, and promotes programs for our alumni to keep them connected and involved with Jackson State University and one another. The office is under the umbrella of the JSU Division of Institutional Advancement (DIA).
Our mission is to help alumni build a life-long relationship with the institution and to encourage alumni to support our beloved institution.
Our staff works in collaboration with DIA and the Jackson State University National Alumni Association, Inc., (JSUNAA) to advance alumni and community goals.
Primary Functions
Public Relations and Communications – Guide relationships among alumni individuals, alumni chapters, volunteers, and corporate and civic constituents; maintain communication between the University and alumni through social media.
Reclaim, Engage, and Reunite – Develops initiatives and programs to help reclaim, engage, and reunite Jacksonians in the life of the university.
Fundraising – Collaborates with the DIA and the JSU National Alumni Association to build alumni support for Jackson State University by soliciting contributions and creating fund-raising events.
Operations and Management – Maintains the alumni database and membership for the JSU National Alumni Association, Inc.
The Department of Alumni and Constituency Relations also coordinates meetings and special events for the JSUNAA.
I assure you that as your director and ambassador, I will work tirelessly to CONNECT, ENGAGE and SERVE you.
I look forward to roaring with the Tigers. Go JSU!
Warmest Regards,
Tammy Terrell-Brooks '06
Director of Alumni and Constituency Relations