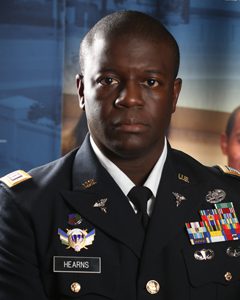 CPT Willie James Hearns
Assistant Professor of Military Science – Mississippi College
Captain Willie J. Hearns is currently assigned as the Assistant Professor of Military Science at Mississippi College, in Clinton, MS. CPT Hearns enlisted in Active Duty Army in 1993, as a Combat Medical Specialist. His assignments include Headquarters Troop 1/3rd Armored Cavalry Regiment and William Beaumont Army Medical Center.
In October of 1996, he left Active Duty and enlisted with the Mississippi Army National Guard. Units of assignment included, Headquarter Battery 2/114th Field Artillery, Support Company 2/20th Special Forces Group (A), and Special Operations Detachment – South. He deployed to Afghanistan in 2003 with 2/20th SFG(A) in support of Operation Enduring Freedom.
In December of 2006, he received his Commission as a Medical Service Corps Officer through the ROTC Program at Mississippi State University. As an Officer, his prior units of assignment include, Commander of Det.1 Headquarters 1/98th Armored Battalion, Medical Platoon Leader for Headquarters 1/198th Armored Recon Squadron, Nuclear Medical Science Officer for 47th Civil Support Team, and Medial Operations Officer for 47th Civil Support Team.
CPT Hearns' military education includes Primary Leadership Development Course, Basic Airborne Course, Air Assault Course, Combatives Level I Instructor, Basic Officer Leadership Development Course, AMEDD Officer Basic Course, Civil Support Skills Course, Army Toxic Agent Training, Medical Management of Chemical / Biological Casualties, Field Identification of Biological Warfare Agents, Environmental Compliance Officer, Antiterrorism Officer Course, OPSEC Officer Course, Applied Radiological Response Techniques (Levels I, II, II), Radiological Safety Officer Course, Chemical/Biological Warfare Agents Course, Medical Effects of Ionizing Radiation, AMEDD Captain Career Course, Medical Operations/Intel Officer Course, Defense Support Of Civil Authorities (Phase I, II, III), Force Manager Course, and Nuclear Counter-Proliferation Officer (Functional Area 52).
CPT Hearns' awards and decorations include Meritorious Service Medal, Army Commendation Medal (2), National Defense Service Medal (2), Army Service Ribbon, Armed Forces Expeditionary Medal, Global War on Terrorism Service Medal, Overseas Service Ribbon, Afghanistan Campaign Medal, Army Achievement Medal (3), Armed Forces Reserve Medal with "M" Device, Mississippi War Medal, NCO Professional Development Ribbon, Good Conduct Medal, Mississippi Emergency Service Medal (5), Coast Guard Special Operations Medal, Mississippi Longevity Medal, Outstanding Volunteer Service, Mississippi National Guard Service School, Mississippi National Guard Efficiency, Shoulder Sleeve Insignia for Former Wartime Service, Basic Airborne Wings, Air Assault Wings, Uzbekistan Jump Wings and the Combat Medical Badge.