Captain Ike Singletary

Assistant Professor of Military Science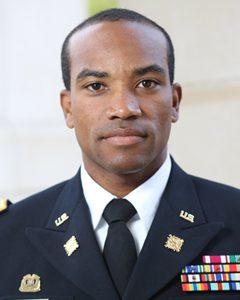 Captain Ike Singletary II is currently assigned as the Assistant Professor of Military Science at Jackson State University and Mississippi Valley State University.
A native of Fort Bragg, North Carolina, Captain Singletary entered the Army as a commissioned officer in 2006. Captain Singletary competed for and received a three-year ROTC scholarship as a freshman at Winston-Salem State University, Winston-Salem, North Carolina; he would transfer to the University of North Carolina at Pembroke, Pembroke, North Carolina the second semester of his freshmen year. Captain Singletary graduated in 2006 with a Bachelor of Science degree in Business Administration with a focus in Management. Upon graduation, Captain Singletary commissioned Second Lieutenant in the Quartermasters Corp (USAR). His first assignment was Transportation Officer and Executive Officer for the 385th Transportation Detachment (Movement Control Team) at Fort Bragg, North Carolina from May 2006- July 2007. In July 2007, Captain Singletary was cross-leveled to the 221st Ordnance Company (Ammunition Modular) in Fort Wayne, Indiana and became a Platoon Leader of a Medium Lift Platoon tasked to prepare the company for the upcoming deployment to Afghanistan. While in Afghanistan from March 2008- April 2009, then Second Lieutenant Singletary was hand-selected to become the Officer-in-Charge of Bagram Airfield Ammunition Supply Point, the largest Ammunition Supply Point in Afghanistan.
From April 2009- October 2012, Captain Singletary served as the Commander of 385th Transportation Detachment (Movement Control Team) in Fort Bragg, North Carolina. During this time, he mobilized in support of the U.S. Homeland Defense Office Command and Control Consequence Response Element (C2CRE), from January 2012 to October 2012. From December 2012 to June 2013, Captain Singletary served as Supply Officer for the 207th Digital Liaison Team in Fort Bragg, North Carolina. In May 2013, Captain Singletary accepted an Active/Guard Reserve (AGR) tour.
Captain Singletary is currently on a Military Leave of Absence from the Department of the Army Civilian Corps where he is employed as a Supply Technician at the 171st Infantry Brigade, Fort Jackson, South Carolina.
Captain Singletary holds a Master of Business Administration degree from Webster University and has been awarded the Demonstrated Master Logistician citation from SOLE—The International Society of Logistics and the Army Logistic University.
Captain Singletary's military education includes: the Quartermaster Officer Basic and Advance Course; Combined Logistics Captain Career Course; Unit Mobilization Planner Course; Hazardous Materials First Responder at the Operational Level Course; Contracting Officer Representative Course; and Support Operations Course.
His awards and decorations include: the Meritorious Service Medal, Army Commendation Medal (1 OLC), Army Achievement Medal (1 OLC), Afghanistan Campaign Medal with Campaign Star, National Defense Service Medal, Army Service Medal, Global War on Terrorism Service Medal, Overseas Service Ribbon, Armed Forces Reserve Medal with M-device, NATO-ISAF Medal, and the Army Reserve Component Achievement Medal (1 OLC).