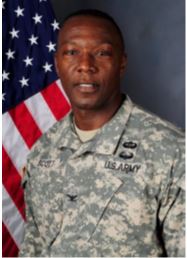 Colonel Scott serves as the State Inspector General for the Mississippi Army & Air National Guard. Originally from Canton, MS, COL Scott is a graduate of Velma Jackson High School, Camden, MS, and was commissioned a Second Lieutenant in Air Defense Artillery in1987 upon graduation from Jackson State University, Jackson, Mississippi. After completing the Air Defense Artillery Officer Basic Course, he was assigned to the 2nd Battalion, 2nd Air Defense Artillery, 31st Brigade where he served as a Platoon Leader, Battery Executive Officer and Battalion Operations Officer from 1988 to 1992.
His assignments include multiple joint and operational tours, staff assignments at numerous levels as well as several commands. Highlights include assignment to the 1st Cavalry Division where he commanded Battery A, 4th Battalion, 5th Air Defense Artillery Regiment. Upon completion of command, he served as the Division Equal Opportunity Advisor to the Commanding General. In 1995, COL Scott was assigned to the Republic of Korea, Eighth United States Army where he served as a Command Budget Analyst. COL Scott returned to Fort Bliss, Texas and was assigned to 6th Air Defense Artillery Brigade. His assignments were; Officer Basic Course Instructor, Officer Advance Course Instructor and Aide-de-Camp to the Commanding General of Fort Bliss.
COL Scott was assigned to the 1st Armored Division in the Federal Republic of Germany as the Division Air Defense Officer and deployed to Pristina, Kosovo (Task Force Falcon) as the KFOR Liaison Officer for Multi-National Brigade (East). Upon re-deployment from Kosovo, he served as the Battalion Operations Officer and deployed to Operation Iraqi Freedom (OIF-1) as the Battalion Executive Officer, 1st Battalion, 4th Air Defense Artillery Regiment. In August of 2003, COL Scott was assigned to Joint Forces Command with duty location in Forces Command, Headquartered in Atlanta, Georgia as a Joint Exercise Planner in the Joint Interoperability Division and later became the Branch Chief of the Joint System Training and Exercise Branch (JSTE). Following his tour with the Federal Republic of Germany and he was assigned to the 69th Air Defense Artillery Brigade, 1st Infantry Division as the Deputy Commanding Officer. He then assumed command of the 6th Battalion, 52nd Air Defense Artillery Battalion in Ansbach, Germany. In June of 2006, the unit was relocated to Fort Sill, Oklahoma as part of the Congressional Mandate; Base Reception Alignment Closure (BRAC). Upon relinquish of Command in Jun 2008, COL Scott was assigned to FT Bliss with duty location at Fort Sill as the BRAC Reception and Integration Chief until Jun 2009. COL Scott was then assigned to the Fires Center of Excellence as the Director of Strategic Plans and Operations until Jun 2010, followed by War College at Air University in Montgomery Alabama. Upon completion, COL Scott deployed as the Chief of Air and Missile Defense, Third Army/United States Army Central (ARCENT), forward-deployed in Kuwait. Following his deployment, he assumed the duty as the USCENTCOM Inspector General, MacDill AFB, Tampa FL.
Colonel Scott's military education includes the Air War College; the Joint Combined War-fighting School, the Defense Institute of Security Assistance Management (DISAM), the Army Command and General Staff College, the Joint Inspector General Course, the Air Defense Artillery Officer Basic and Advanced Courses, His awards and decorations include the Bronze Star, the Defense Superior Service Medal, the Meritorious Service Medal with (5) oak leaf clusters, Joint Commendation Medal with one oak leaf cluster, Army Commendation Medal with four oak leaf clusters, Army Achievement Medal with two oak leaf clusters, NATO Campaign Medal, Kosovo Campaign Medal, Parachutist Badge, and Air Assault Badge. His civilian study includes a master's degree in Strategic Studies from the United States Air Force University, Maxwell Air Force Base, Alabama.
COL Scott is married to the former Denise Shaw, of Camden, Mississippi and they have 4 Children (Stacey, Laura, Kasc and Ziyun).