Lieutenant Colonel Travis A. Smith
Professor of Military Science
Jackson State University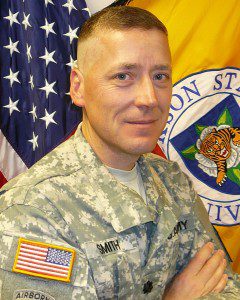 Lieutenant Colonel Travis A. Smith is the Commander of the Jackson State University (JSU) Tiger Battalion, Professor of Military Science, and Chair, Department of Military Science, JSU.
Lieutenant Colonel (LTC) Smith enlisted in the Army in 1994 as an Intelligence Analyst and served in the S2 section of the 1-101st Attack Aviation Battalion, 101st Airborne Division in Ft Campbell Kentucky from 1994 – 1996. In January 1997, LTC Smith received his commission as an Armor Officer through the U.S. Army Officer Candidate School at Ft Benning, Georgia. From 1997 -1999, LTC Smith served as a Platoon Leader and Company Executive Officer with 2-69 Armor Battalion, 3rd Infantry Division in Ft Benning Georgia. During this time, he deployed to Kuwait as part of Operation Desert Thunder. From 2000 – 2003, he served as the Battalion Maintenance Officer and Bravo Company Commander for 1-12 Cavalry Regiment, 1st Cavalry Division in Ft Hood Texas. After Company Command, LTC Smith served as the Brigade Assistant S3 for the 500th Military Intelligence Brigade at Schofield Barracks Hawaii from 2003 – 2005. During this time, LTC Smith branch transferred from Armor to Military Intelligence. In 2005, LTC Smith volunteered for an individual augmentee deployment to CENTCOM as a Joint Intelligence and Operations Watch Officer in both Qatar and Tampa in support of the Global War on Terror. From 2006 – 2008 LTC Smith served as the Battalion Executive Officer and Battalion S3 with the 441st Military Intelligence Battalion in Camp Zama Japan. In 2008, he volunteered to deploy to Baghdad, Iraq as the Deputy Counterintelligence and Human Intelligence Chief for Multi-National Corps Iraq (18th Airborne Corps) in support of Operation Iraqi Freedom. From 2010 – 2013, LTC Smith served as an Intelligence Planner for U.S. Army Africa at Caserme Ederle in Vicenza Italy. During this time, LTC Smith served as the J2 Chief of Intelligence for Joint Task Force Odyssey Guard in support of U.S. operations in Libya from Aug 2011 – Jan 2012.
LTC Smith earned his Master of Science Degree in International Relations from Webster University and Bachelor of Applied Science in Human Resource Management from Troy State University.
LTC Smith's professional military education includes the Command and General Staff College, Armor Officer Basic and Advanced Courses, Combined Arms and Services Staff School, Counterintelligence Officer's Course, and the Strategic Debriefer Course.
His awards and decorations include the Bronze Star Medal, Defense Meritorious Service Medal, Meritorious Service Medal (2 OLC), Army Commendation Medal (4 OLC), Joint Service Achievement Medal, Army Achievement Medal (4 OLC), Iraqi Campaign Medal, Armed Forces Expeditionary Medal, Good Conduct Medal, National Defense Service Medal, the Global War on Terrorism Expeditionary Medal, the Global War on Terrorism Service Medal, the Air Assault Badge, and the German Armed Forces Proficiency Badge (Gold).