Major Bobby W. Crocker

Executive Officer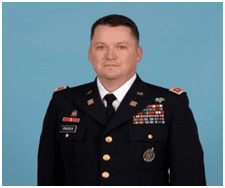 Major Bobby W. Crocker is currently assigned as the Assistant Professor of Military Science at Jackson State University, Jackson, Mississippi.
A native of Grove, Oklahoma, Bobby entered the Army as an enlisted Soldier in 1990. In 1998, the then Staff Sergeant Crocker, received a Hip-Pocket Green to Gold ROTC Scholarship from the I Corps Commander. Bobby attended Salisbury State University, Salisbury, Maryland where he graduated Summa Cume Laude in 2000 with Bachelor of Art degrees in History and Psychology. Bobby received his commission in the Ordnance Corps through the Reserve Officer Training Corps that same year. Bobby also holds a Master of Science degree in Management from the Indiana Institute of Technology, Fort Wayne, Indiana which he attained through the Army's Advanced Civil Schooling program.
Prior to reporting to Jackson State University, Bobby served as the Brigade Logistics Support Team Chief for 2nd Brigade Combat Team, 101st Airborne Division (Air Assault), Fort Campbell, Kentucky. He served with 2/101 BCT both at Fort Campbell and at Forward Operating Base Wilson in Kandahar Province, Afghanistan. Bobby served as the Commander of US Army Recruiting Company, Fort Wayne, Indiana from July 2006 to July 2008. From May 2004 to June 2006, Bobby was assigned to the 832nd Ordnance Battalion, Redstone Arsenal, Alabama. He served as Delta Company Commander and Headquarters & Alpha Company Commander. From 2000 to 2004, Bobby served with the 16th Corps Support Group in Hanau, Germany. Bobby held positions as Platoon Leader, Shop Officer, Detachment Commander, Group SPO Maintenance OIC, Group SPO Plans and Operations Battle Captain. During this time, he deployed to Kosovo in support of KFOR2B/3A RSOI and to Operation Iraqi Freedom.
Bobby's military education includes the Ordnance Officer Basic and Advanced Courses, Combined Logistics Captains Career Course, Recruiting Company Commander's Course, AMEDD Noncommissioned Officer's Basic Course, and the Primary Leadership Development Course.
Bobby's awards and decorations include the Bronze Star Medal, the Meritorious Service Medal with three oak leaf clusters, the Army Commendation Medal with three oak leaf clusters, the Army Achievement Medal (sixth award), Iraqi Campaign Medal, Kosovo Campaign Medal, Good Conduct Medal (second award), National Defense Service Medal, Korean Defense Service Medal, Noncommissioned Officer Professional Development Ribbon with numeral 2, the Global War on Terrorism Expeditionary Medal, the Global War on Terrorism Service Medal, Humanitarian Service Medal, the Army Service Medal, the NATO Service Medal, the Expert Field Medic Badge, and the Basic Recruiting Badge . Bobby was also awarded the Meritorious Unit Commendation for actions during Operation Iraqi Freedom 1 and the Army Superior Unit Award while a member of USAREC.
Bobby is married to Captain Karen Crocker (USAR, AG) formerly of Upper Marlboro, Maryland. They have three children: Kaitlyn 16, Zachery 13, and Ella 7. They currently reside in Madison, MS.