Golf Cadet's ROTC training created
athletic, leadership opportunities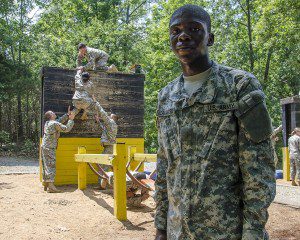 Golf Cadet Alex Crawford works with his squad on the Team Development Course on Wednesday June 17. Crawford balances ROTC and running track at Jackson State University, using his running ability to motivate his fellow Cadets.  Photo by Corey Ohlenkamp.
By Sydney Callis
Leader's Training Course
                                                           CADET Alex Crawford
His feet hitting the rubber in a rhythmic beat, Alex Crawford just ran. As the number of laps increased with every stride, he went around and around Jackson State University's track.
"I was scared I was going to be slow for ROTC," Crawford said. "I would go out there and just run."
Getting up at 6 a.m. to run six miles and then running six more in the afternoon, Crawford, currently a Cadet in Golf Company at the Leader's Training Course, used his university's track every day.
Mark Thorne, the track coach for Jackson State University, saw Crawford run in high school and extended him an invitation to join the team when he enrolled in the school. That  conversation with Thorne launched Crawford's running career with Jackson State University's cross country and track and field teams.
While Crawford said his only experience in track came from that one semester in high school, he uses his training to grow as a leader as well.
To motivate his fellow Cadets, Crawford said he invites them to run with him. Instead of running his average speed the entire time, he slows down to run with his peers and gives pep talks.
"Even though I'm older than him, when I was a Cadet and we were running, he'd tell me, 'Cadet Culpepper, you can do it,'" said 2nd Lt. Jerrica Culpepper, who was Crawford's executive officer when she was still in ROTC at Jackson State University. "He's one of those Cadets that even though he's good at what he does, he doesn't mind stopping and helping someone weaker than him."
Having never considered being an athlete in college, Crawford, whose fastest two-mile time is 9 minutes and 33 seconds, took on the new role while still balancing his classwork and ROTC commitments. He even found a way to combine his track and ROTC training.
"It was very time-consuming, but ROTC really helped me with time management," Crawford said. "I run nine miles every morning at 5 a.m., then have PT at 6 a.m. and then class at 8 a.m., so it's a lot to balance."
Track Star, which is Crawford's nickname among his fellow Cadets at school, reflects his passion and dedication to running.
"He's an extremely good runner," Culpepper said. "He loves it. If you tell him to run six miles, he'll go out there and do it and probably do it faster than you."
His training with fellow Cadets provides another outlet to train for the track team, where his teammates have been training for years.
"Meets are intense, especially my first one at Louisiana State University," Crawford said. "These people have run all their lives, and I ran against some Olympians. They've been training a lot longer than me."
Although he ultimately plans to pursue a career in the Army, he also has big dreams for his running career.
"Definitely before I graduate, I want to try the Army pro track team and try to qualify for the Olympic trials," Crawford said. "Running is a stress reliever, and I love it."