Former JROTC student continues on Army path as Golf Company Cadet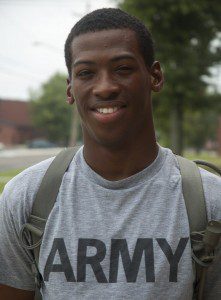 Golf Company Cadet Marquis Reed, student at Jackson State University, attended a JCLC course at Ft. Knox in high school, returned this summer as a JCLC platoon leader and is now a Cadet at LTC. Photo by Corey Ohlenkamp.
By Sydney Callis
Leader's Training Course
When Marquis Reed arrived at Fort Knox to begin his time at the Leader's Training Course, he knew what to expect.
Two years ago, Reed first travelled to Fort Knox to attend the Junior Cadet Leadership Course, or JCLC. The weeklong program is designed to provide high school students the opportunity to experience new activities and learn about life in the military.
"JCLC is for young individuals," said Reed, a Golf Company Cadet. "You start learning leadership there."
Two months ago, Reed, a student at Jackson State University in Mississippi, returned to Fort Knox with the JCLC program, where he served as a platoon leader to mentor and lead current high school students through their experience at the course.
"From my first time to my second time, I learned more about leadership, as a platoon leader and being more mature around individuals," Reed said. "Both times were a breeze, though."
Reed was one of four college students selected to attend JCLC with the group from Jackson, Miss. Col. Paul Willis, director of the JROTC program in the Jackson Public School system, said he saw Reed grow as a person during this summer's week at JCLC.
"At first, I think he was more focused on being a peer rather than being a leader so this presented an opportunity for him to realize that once he's out there as a leader, he's not a peer," Willis said. "Over the few days we were there and as our instructors coached and counseled him, we saw a tremendous growth in his overall leadership skills from the first day to the last day we were there."