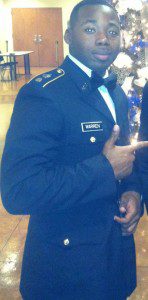 Cadet Brian Warren
Cadet Warren was born in Jackson, Mississippi on 27 September 1991 to Irene Warren. He has a twin sister Brianna.
Cadet Warren attended Wingfield High School in Jackson, Mississippi where he played football and earned all metro second team, defensive MVP, and co-MVP. He graduated in May 2011 and attended Jackson State University Summer Bridge Program to integrate him into the college life.
In 2012 Cadet Warren joined the United States Army and became an 88M transportation soldier assigned to the 850th Transportation Company in Lyons, Mississippi.
Cadet Warren joined the Army ROTC program where he was the Cadet Company Commander. Cadet Warren will serve as the Cadet Battalion Commander during the 2014-2015 school term.
Cadet Warren has achieved many other achievements but the greatest of all was earning the respect of his fellow peers and cadre.
Cadet Warren has a 3.2 GPA and would like to go active duty upon successful completion of LDAC (Leadership Development Achievement Course) this summer.