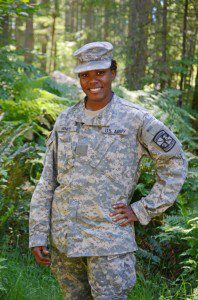 U.S. Army photo by Cydney McFarland.
Story by Allie Pasdera.
                                                              CADET Tyra White
 When 6th Regiment Reserve Officers' Training Corps Cadet Tyra White, a graduate student in sociology tells other Cadets that she was selected to represent Jackson State University as Miss ROTC for 2013, it conjures up thoughts of swimsuits, evening gowns, and interviews about world peace. While those assumptions might hold true for most beauty pageants, the Miss ROTC competition at JSU sheds the traditional aesthetic criteria for more substance-based qualities such as leadership skills and academic excellence.
"I was chosen by our Cadre at Jackson State University to be Miss ROTC because of my high grade point average, my constant improvement on the army physical fitness test, and my ability to lead," said White.
As part of her year-long duties as Miss ROTC, the Ridgeville, Miss. native mentors first and second year Cadets at her school and attends various ROTC functions to serve as a role model for future female Cadets.
"Being Miss ROTC is about getting your face out there because you recruit other Cadets into the program," said White. "Anything you can name that is ROTC-related, I have to do that."
White's position as a role model for other Cadets stems from her leadership experience with her sorority, Alpha Kappa Alpha. As a sorority member, White balances her education with hosting community service events and managing various sorority functions.
"I used to be more timid, and I didn't want to be in front of people," said White. "Being in a sorority developed me more as a leader."
White is hoping to bring her leadership abilities full circle this summer during the Leader Development and Assessment Course at Joint Base Lewis McChord, Wash. The 29-day leadership-infused training exercise is one of White's final steps on her progression to become a commissioned officer in the U.S. Army.
"My experience here is hard, but if [I] stay focused, stay a team leader, and know my stuff, [I'll] make it through," said White.