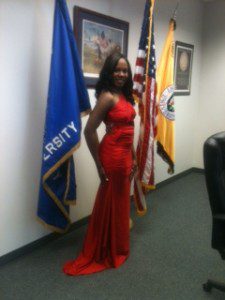 Miss ROTC
Jackson State University (2013-2014)
Cadet Tyra White, a native of Ridgeland, MS, is a graduate student at Jackson State University, pursuing a degree in Sociology. She was chosen as Miss ROTC by the Reserve Officer Training Corps (ROTC) cadre members due to her academic achievement of a 4.0 GPA, continuous progression during the Army Physical Fitness Test, and potential to lead others.
Tyra has been involved with the military since 2005, when she joined as a high school junior at Port Gibson High School in Port Gibson, MS. She established an Army Reserve career as a Sergeant, but through ROTC, hopes to become an Active Duty Officer. Being in the Army is tough, but Tyra enjoys it because the opportunities are unimaginable.
While pursuing an undergraduate degree at Tougaloo College, Tyra was involved in various community service projects. She tutored elementary students in general education subjects at Watkins Elementary School in Jackson, MS, through the Youth Empowerment Program and visited with Army veterans at the VA Medical Center in Jackson, MS, to show them that their service was appreciated and not forgotten. She also participated in a few projects through her sorority, Alpha Kappa Alpha Sorority, Inc.
As Miss ROTC, Tyra hopes to serve as a mentor for upcoming cadets, motivating them to strive for excellence by never accepting failure or defeat. As a great mentor always tells her, "Believe in God, yourself, your training and equipment, and you will be okay." This is the message she wants to give and for others to remember about her.