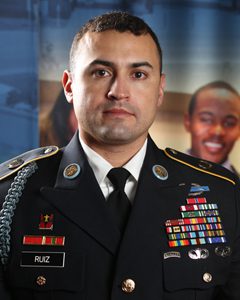 MSG Ruiz Rodolfo
Senior Military Instructor
MSG Ruiz entered the United States Army on 11 Aug 1997 at McAllen, Texas. He completed Infantry One Station UnitTraining at Fort Benning, Georgia. MSG Ruiz has served in the following positions: Rifleman, Grenadier, Assistant Machine-gunner, Machine-gunner and Team Leader in 1-14th Light Infantry, 25th Infantry Division, Schofield Barracks, Hi; Team Leader in 1-509th Airborne Infantry, JRTC OPFOR, Fort Polk, LA; Team Leader, Dismount Rifle Squad Leader in 1-9th Mechanize Infantry, Camp Hovey, South Korea; Weapons Squad Leader in 1-509th Airborne Infantry, JRTC OPFOR, Fort Polk, LA (OIF Iraq, November 2004-May 2005); Small Group Leader, Senior Small Group Leader in 5th Infantry Division NCO Academy, Fort Polk, LA; Drill Sergeant, Senior Drill Sergeant in 1-34th Infantry Training Brigade, Fort Jackson, SC; Platoon Sergeant in 3rd Heavy Brigade Combat Team (OND Iraq, February 2011 to December 2011) 1st Calvary Division, Fort Hood, Texas; Platoon Sergeant in 1-12th CAV, 1st Calvary Division, Fort Hood; Operations NCO in Headquarters Commandant, SOCCENT, MacDill AFB, FL., First Sergeant in Bravo Troop 2-38 CAV Reconnaissance and Surveillance Squadron, Fort Hood, TX., currently a Senior Military Instructor Jackson State University Jackson, MS.
MSG Ruiz had attended three levels of the Noncommissioned Officer Education System Warrior Leaders Course, Advance leaders Course and Senior Leaders Course. He has graduated from The Army Modern Combative Program Level- I, II, III, JRTC and NTC Observer Controller Course, Airborne School, Air Assault School, Ranger School, and Drill Sergeant School. MSG Ruiz completed his Associate's Degree from Central Texas College in Fort Hood, Texas.
His awards and decoration include the Bronze Star Medal; Meritorious Service Medal(1 oak leaf cluster); Joint Service Commendation Medal; Army Commendation Medal (2d oak leaf cluster); Army Achievement Medal (4th oak leaf cluster); Army Good Conduct Medal (5th award); National Defense Service Medal; Armed Forces Expeditionary Medal; Iraq Campaign Medal; Global War on Terrorism Expeditionary Medal; Global War on Terrorism Service Medal; Korean Defense Service Medal; Humanitarian Service Medal; NCO Professional Development Ribbon (numeral 3); Army Service Ribbon; Overseas Service Ribbon (4th oak leaf cluster); NATO Medal; Army Superior Unit Award; Meritorious Unit Commendation Medal; both the Expert Infantryman Badge and Combat Infantryman Badge; Parachutist Badge; Air Assault Badge; Ranger Tab(SGM Robert Spencer Enlisted Leadership Award); Drill Sergeant Badge (CMD List); Sergeant Audie Murphy Club Member.