Master Sergeant Martin Gutierrez
Senior Military Instructor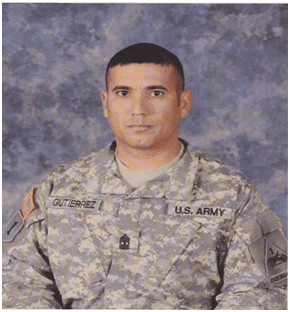 Master Sergeant Martin Gutierrez was born in Victoria Texas, and joined the Army July 22nd,1994. He reported to Fort Benning, Georgia where he completed Basic Training and Advanced Individual Training and was awarded the MOS of 11B10, Infantryman. MSG Gutierrez's overseas duty assignments include: 1/18 Infantry Battalion, 2-15 Infantry Battalion Schweinfurt Germany,1-18 Infantry Battalion, 1-2 Infantry Battalion Schweinfurt Germany, MSG Gutierrez's stateside duty assignments include, 3-7 INF Battalion Fort Stewart Georgia and 2/1 Special Troops Battalion Fort Bliss Texas.
MSG Gutierrez has attended numerous military schools which included: Senior Leader Course, Basic Non-Commissioned Officer Course, Primary Leadership Development Course, Bradley Fighting Vehicle Master Gunner Course, Hazardous Material Course, Risk Analysis Course, Anti-terrorism Level II Course, NBC Course, and others.
Master Sergeant Gutierrez has been deployed to Bosnia, Kosovo, and three tours in Iraq.
MSG Gutierrez's awards and decorations include the Bronze Star Medal, Meritorious Service Medal (2 OLC), Army Commendation Medal (2 OLC), Army Achievement Medal( 3 OLC), Meritorious Unit Citation, Army Good Conduct Medal (6th Award), National Defense Service Medal, KOSOVO CAMPAIGN MEDAL W/BRONZE SERVICE STAR, IRAQ CAMPAIGN MEDAL CAMPAIGN STAR, Global War on Terrorism, Nato Medal, Combat Infantrymans Badge, and the Expert Infantrymans Badge.
MSG Gutierrez currently resides in El Paso, TX with his wife Heike and two children, Julian and Leyna.