Mississippi Foreign Language Fair
April 3rd, 2013 by demfl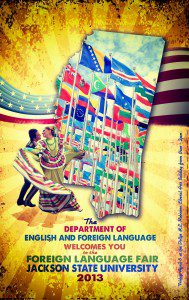 The eleventh "Mississippi Foreign Language Fair" will be held on Friday, April 5, 2013.  The Department of English and Foreign Languages at Jackson State University will be hosting the event in the Dollye M. E. Robinson Liberal Arts Building.
About four hundred students from schools in the Jackson Metro area and Central Mississippi are expected to attend and test their language skills in the various levels of foreign language proficiency. The event promotes not only the study of the language but creativity, and cultural awareness among the students and the community as well.
Students will be tested at the beginner, intermediate, and advanced levels of Chinese, French, German, and Spanish. They also participate in and compete in projects, singing, and dancing. Trophies, medals and ribbons will be awarded.
For information, please contact Mr. Herd Graves at (601)979-2249, Dr. Carol Schweitzer at (601) 979-2250, the Foreign Language Area Coordinator, or Mrs. Esperanza M. Velasquez 2013 Foreign Language Fair Public Relations Coordinator at (601)979-2866.
Thanks to participants, teachers, JSU students and Faculty. Your support is very much appreciated.