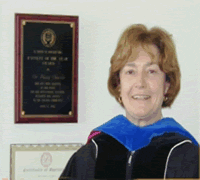 Professor of English
Ph.D., Literature and Criticism, Indiana University at Pennsylvania
M.A., English, University of Nebraska
B.A., Liberal Studies, University of Nebraska at Omaha
Office: 451 College of Liberal Arts Building
Phone: 601.979.1480
E-mail: patsy.j.daniels@jsums.edu
Selected Publications/Projects
Education
Dr. Patsy J. Daniels earned her B.A. in Liberal Studies from the University of Nebraska at Omaha, her M.A. in English from the University of Nebraska Graduate College, and her Ph.D. in Literature and Criticism from Indiana University of Pennsylvania. Her dissertation, The Voice of the Oppressed in the Language of the Oppressor: A Discussion of Selected Post-Colonial Literature from Ireland, Africa, and America, uses several contemporary theories, notably postcolonialism, feminism, ecofeminism, multiculturalism, and Bakhtinian dialogics.
Her post-doctoral studies include American Indian Ethno-history at the University of Oklahoma in the summer of 2007 and a three-week study of Asian Studies at the University of Hawaii in the summer of 2005.
Publishing
Besides publishing her dissertation as a volume in the Routledge series Literary Criticism and Cultural Theory, Dr. Daniels has published two other books, with another to be published early in 2015. She has also published book chapters and journal articles on such disparate authors as Joseph Conrad, William Butler Yeats, Emily Dickinson, and Jack Kerouac. She regularly makes presentations at local, regional, national, and international conferences.
Dr. Daniels served as Editor for the Jackson State University Researcher: An Interdisciplinary Journal from 2008 until 2014 and evaluates articles for publication for College Literature, LIT: Literature Interpretation Theory, International Journal of the Humanities, and the Journal of Intercultural Disciplines.
Travel with Students
Dr. Daniels proposed, planned, and carried out, with colleague Elizabeth S. Overman from the History and Philosophy Department, Jackson State University's first Faculty-Led Study Abroad. They taught World Literature and World History to JSU students in Beijing for three weeks in the summer of 2007. She took her Comparative Literature students on a ten-day tour of England in May 2012.
Previous Experience
Before coming to Jackson State University, Dr. Daniels taught at Lane College for six years, at Tennessee State University for four years, and at Austin Peay State University for four years.
COURSES TAUGHT:
Graduate:
Writing for Publication

Advanced Lab Writing

Twentieth Century American Literature

American Literature Seminar

Seminar in the Harlem Renaissance

Classical and World Literature I and II

Comparative Literature

Survey of Grammar

Literary Criticism

Modernism: British and American
Undergraduate:
African American Literature

Children's Literature

Comparative Literature

Composition I and II

Honors Composition I and II

Introduction to Literature

Literary Criticism

Seminar in Milton

Native American Literature

Twentieth-Century American Fiction

World Literature

Honors World Literature
TITLES OF STUDENT RESEARCH PROJECTS DIRECTED
"African Americans Fade to Black: New Historicism and Post Colonial Approaches to Fictional Characters and the African American Male Identity and Collective Consciousness in the 21st Century, a Comparison of Chinua Achebe's Character Okonkwo, Richard Wright's Character Bigger Thomas, and Ralph Ellison's Character in The Invisible Man"
"A Comparative Study of Feminist Struggle to redefine the Concept of Virtue as Defined by the Patriarchy in Henry James's Daisy Miller, James Baldwin's Go Tell it on the Mountain, Kate Chopin's The Awakening, and Zora Neale Hurston's Their Eyes Were Watching God"
"The Naïve View of British Women in the Early 1900s Backfires"
"A Family Affair: Incestuous Relationships in African American Novels: Sapphire's Push: A Novel, Toni Morrison's The Bluest Eye, and Alice Walker's The Color Purple"
"A Psychoanalytic Approach to Paule Marshall's Brown Girl, Brownstones and Jamaica Kincaid's Lucy: A Novel"
"Becoming Self Actualized: Journeys to Self Actualization for Hybrid Characters of Walter Mosley's Devil in a Blue Dress, Leslie Marmon Silko's Ceremony, and Gilgamesh
"An Ethical Reconsideration of the Oedipus Complex in D. H. Lawrence's Sons and Lovers"
"Otherness in Three Female Adolescent Bildunsromanen: A Tree Grows in Brooklyn by Betty Smith, The Member of the Wedding by Carson McCullers, and To Kill a Mockingbird by Harper Lee"
"A Comparative Analysis of Race, Identity, and Class as Represented in Selected Black Essays: An Examination of Black Political Thought from the Black Power Movement"
"Chains About My Feet": The Effect of the Fully Obtainable Existence on Specific White and Negro Characters in Southern-Inspired Late 19th and Early 20th Century American Works
"The Medea Complex and the Oedipus Complex in The Tale of Genji"
"Different Paths to Gender Equality: How Virtue Affects the Struggles of Both White and Black Women for Gender Equality in the Fiction of Kate Chopin in The Awakening and "A Point at Issue," Alice Walker in The Color Purple, and Stephen Crane in Maggie, a Girl Of The Streets"
"Critical Analysis of Existentialism in Jorge Luis Borges' 'The Garden of Forking Paths'"
"Calibanic Discourse in Three Writers of the Harlem Renaissance: Wallace Thurman, Rudolph Fisher, and Langston Hughes"
"Cultural Linguistics: Understanding the Paramount Phenomena of Language Rebirth and Language Evolution among African American College Students"