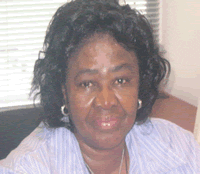 Professor of English
Ph.D., Literature, Birmingham , England
TESL: Post-Graduate Certificate in Teaching English as a Second Language, University of California , Los Angeles
M.A., English, University of California , Los Angeles
M.A., Folklore and Mythology, University of California , Los Angeles
B.A., English, Nigeria
Office: 449 College of Liberal Arts Building
Phone: 601.979.1479
Dr. Helen Chukwuma is a feminist scholar and the first female to be made a Professor at the University of Port Harcourt, Rivers State, Nigeria in 1993. From 1991-92, she was a Fulbright Research Fellow at the University of Cincinnati in Ohio.
Dr. Chukwuma has written or edited seven books and has served as the editor of the Journal of Women's Studies in Africa. Her academic areas of interest are African literature, oral and written, African fiction, feminist theory in literature, contemporary English and American literature, African and African-American women authors, and women's studies. Chukwuma's current research focuses on indigenous African feminism and meeting points in Black women's literature. She is currently editing a text on Chinua Achebe titled Achebe's Women: Imagism and Power.
Selected Publications
Achebe's Women: Imagism and Power.Trenton, New Jersey, 2012
Accents on the African Novel . 2nd ed. Nigeria, Port Harcourt: Pearl Publishers, 2003. (1991)
Ed. Feminism in African Literature. 2nd ed. Nigeria, Port Harcourt: Pearl Publishers, 2003. (1994)
Women Writing: Feminism and National Development in Nigeria . Inaugural Lecture. University of Port Harcourt Press. 5 February 2004 .
A book in Dr. Chukwuma's honor, a Festschrift.
Keroye, Seyifa and Noel C. Anyadike, eds. Woman in the Academy Festschrift for Professor Helen Chukwuma. Pearl Publishers, 2004.
Courses Taught
African Literature: Oral and Written

African Oral Literature

Anglophone Literature (with an emphasis on fiction and drama)

Seminar in African Literature (graduate)

Advanced Lab Writing (graduate)

Comparative Literature (graduate and undergraduate)

Contemporary Literature (graduate)

Descriptive Linguistics

English for Academic Purposes

Modern and Contemporary Literature

Women's Literature

World Literature
Membership in Professional Organizations
Modern Language Association
African Literature Association of America
Women's Caucus of the African Literature Association (President 2009-2010)
National Council of Teachers of English