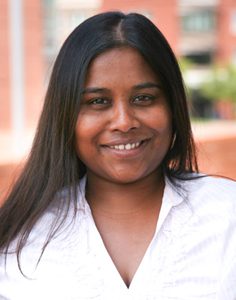 Instructor of English
M.A., English Literature from Nagarjuna University, India
B.A., English Literature from Nagarjuna University, India
Office: 406 College of Liberal Arts Building
Phone: 601.979.5864
E-mail: noel.e.didla@jsums.edu
I teach freshmen core courses with an intentional student-centered approach that allows learning through critical inquiry. In the liberal arts tradition, I believe in humanizing and revolutionizing learning processes. My teaching philosophy is rooted in my Dalit feminism, Friere's pedagogy and Ella Baker's radical democratic vision.
I am a native of Guntur, a hub of education on the east coast in the state of Andhra Pradesh, South India. I earned my Bachelor's with English Literature as a major, History and Political Science as minors. My Master's was awarded in English Literature with Indian Writing in English as a major. I enjoy teaching in the classroom and working along with students in international community development projects and cross cultural service learning activities.
The partnership of Mahatma Gandhi College (my college back home) and Jackson State University has enabled me to serve in the capacity of coordinating the Study Abroad Program, USAID & UNCFSP funded $ 200,000 Institutional Capacity Building Initiative and the Global Alliance for Historically Marginalized Populations.
RECENT COURSES TAUGHT:
ENG 104 & 105 Composition
ENG 206 Literature of Science