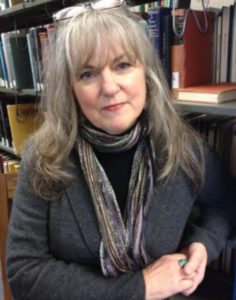 Director, Richard Wright Center for Writing, Rhetoric, and Research
Instructor of English
Richard Wright Center for Writing, Rhetoric, and Research
H. T. Sampson Library, 1st Floor
Phone: (601) 979-0989
Email: kathi.r.griffin@jsums.edu
Website: www.jsums.edu/wrightcenter/
Degrees:
Ph.D.   Teaching and Learning, University of Iowa
Dissertation: Fundamental Divide: Competing Literacies in the Composition Classroom
M.A.T. English Education, Secondary Education, University of Iowa
B.A.    English, with distinction, University of Iowa
Research Interests: 
Composition and writing center theory and practice
Literacy issues
Issues in tutor training
Transitioning to college writing
Writing/speaking connection
Courses Taught:
ENG 104 and 105: Composition I and II
ENG 205: World Literature
ENG 218: Advanced Composition
HON 110: Peer-tutoring in a Global Context
Summer: ESL Institute Workshops
Publications:
Under review: The Burden of Quantification: A Study of Rhetorical Awareness in Student Language at an HBCU, with Tatiana Glushko and Daoying Liu.
2016 "Caught Between the Promise and the Past: A View from the Writing Center." Composition Studies 44.2: 167-171, with Tatiana Glushko.
2014 Book chapter, by invitation: "Esther Waters as Parody: Naturalism, Victorian Morality, and the 'Bulges' of Human Nature." In George Moore and the Quirks of Human Nature. Eds. M. Pierse and M. E. Jaime de Pablos. Oxford, UK: Peter Lang.
2012 Book review: History and Women, Culture and Faith: Selected Writings of Elizabeth Fox-Genovese. Volume 2. Ghosts and Memories: White and Black Southern Women's Lives and Writings. Eds. K. Mack-Shelton and C. B. Lake. Journal of Mississippi History. Summer.
2012 Book review: Transformed: A White Mississippi Pastor's Journey into Civil Rights and Beyond. By William G. McAtee. Journal of Mississippi History. Spring.
2010 "Learning to Teach Writing From My Peer Tutors: A Shift in Authority." Southern Discourse 13.2: 3-11.
2006 "Becoming Mindful of the Absent Professor: Teacher/Tutor Relationships at a Small College," with three peer tutors. Writing Lab Newsletter 30.5: 13-16.
2005 "The Birth of the Mississippi Writing Center Association 2000-2005." Southern Discourse 9.1: 5. < http://www.iwca-swca.org/SDv09i01Fall05.pdf>
1995 "Theory and Practice in the Speaking Lab: Speech Assignments and Rhetorical Assumptions." Iowa Journal of Communication, fall, with Dr. Takis Poulakos, et al.
Professional Memberships:
Mississippi Writing Centers Association (MSWCA), Treasurer
Transitioning to College Writing, Planning Team
Southeastern Writing Centers Association (SWCA)
International Writing Centers Association (IWCA)
National Council of Teachers of English (NCTE) and
College Composition and Communication (CCC)