30th Annual Fannie Lou Hamer Memorial Symposium: "The Children's Crusade, 1963-2013
October 2, 2013

-

October 3, 2013
Event Navigation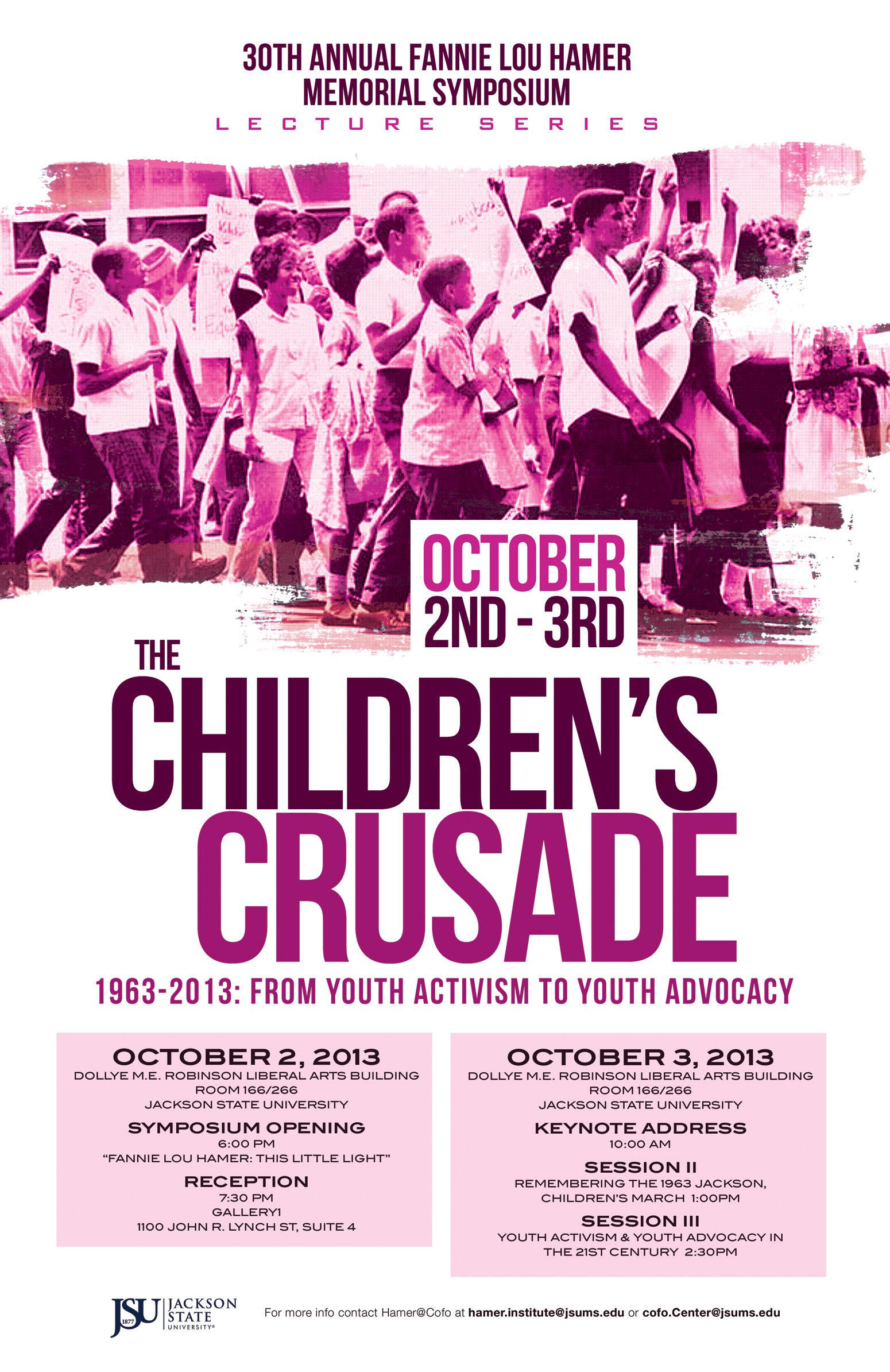 The Fannie Lou Hamer @ COFO Human and Civil Rights Interdisciplinary Education Center invites you to the 30th Annual Fannie Lou Hamer Memorial Symposium: "The Children's Crusade, 1963-2013:From Youth Activism to Youth Advocacy".

In 1963, the nation and the world watched as children across the American South made history in the struggle for civil rights. From Jackson, Mississippi, to Birmingham, Alabama, children joined a cause that ultimately benefited future generations of young people. Their efforts in the fight for equality became their badge of honor. Fifty years later, the children's crusade has taken on new life as advocates confront issues, from quality education to incarceration, affecting America's young people.

Come and be a part of this years' symposium and bear witness to the testimonies of young people, then and now.
WHEN:
Wednesday, October 2, 2013; 6:00 p.m.
(Gallery 1, 1100 John R. Lynch Street, Suite 4, Jackson Mississippi)

· "Fannie Lou Hamer – This Little Light of Mine"
o Performance by MADDRAMA Performance Troupe
· Reception to follow

Thursday, October 3, 2012; 10:00 a.m. – 3:50 p.m.
Dollye M.E. Robinson Liberal Arts Building, Room 166/266, Jackson State University

10:00 AM – Keynote Address
1:00 PM – Session II – Remembering the 1963 Jackson Children's March
2:30 PM – Session III – Youth Activism & Youth Advocacy in the 21st Century

Mr. Albert Sykes, Director of Advocacy and Policy for the Young People's Project (YPP), will bring the keynote address. This 30 year old is a 15-year veteran of YPP/The Algebra Project. Growing up around the corner from where NAACP member and civil rights activist Medgar Evers lived and died has been one of Sykes driving forces in doing the work needed to move Mississippi and our nation forward. Mr. Sykes works on both the local and national levels around critical issues such as education reform, zero-tolerance policies, and the school-to-prison pipeline. Sykes advocates for policies such as Quality Education is a Constitutional Right and works in conjunction with many organizations which includes the NAACP, where he is a member of the Statewide Education Committee, and the Wisdom Foundation, where he serves as the board president.
Currently, Sykes serves as an organizer for the Institute for Democratic Education in America (IDEA) and as a national trainer for the Children's Defense Funds Young Advocate Leadership Training (YALT). Mr. Sykes has recently been named the Youth and Education Director for The Veterans of the Mississippi Civil Rights Movement, Inc. and serves as a co-chair for the Youth track for the Mississippi Freedom Summer 50th Anniversary Conference. He is currently working on an advocacy curriculum for young people.
Mrs. Frankye Adams-Johnson will be a featured guest in Session II – Remembering the 1963 Jackson Children's March. An English Professor at Jackson State University, Adams-Johnson is a native of Mississippi. She attended Jackson Public schools, where she, at age 17, was one of the leading students to organize the 1963 walk-out and march of students from three black public high schools in Jackson. Upon graduating from high school, she did undergraduate studies at Tougaloo College, where she, as a pre-freshman in 1964, joined Freedom Summer. Mrs. Johnson is the former chairwoman of the Veterans of the Mississippi Civil Rights Movement. She remains active in community issues and is a passionate educator dedicated to the promotion of quality education, particularly among African-American youths.
OTHER SPECIAL GUESTS INCLUDE:
Ms. Natalie Collier, Regional Youth Director at Children's Defense Fund; Ms. Noel Didla, Instructor of English, Jackson State University; Rev. Shirley Harrington-Watson, Ordained Minister, participant in the 1963 Jackson Children's March; Mr. Jed Oppenheim, Senior Advocate, Mississippi Initiatives, Southern Poverty Law Center; Rev. Alphonso Lewis, participant in the 1963 Jackson Children's March; Mr. George Chuck Patterson, Institute for Democratic Education in America; and more…
Click here to Register – https://30thflhsympoisum.eventbrite.com