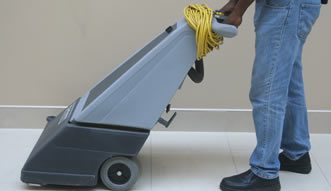 CUSTODIAL SERVICES
Custodial Services has the responsibility of providing a clean environment for office spaces, classrooms and dormitories conducive to employee productivity, and providing a comfortable atmosphere for students. Services are provided each work day from 5 a.m. to 2 p.m. to all education and general (E & G) facilities. One supervisor and 33 custodians are assigned to maintain the E & G buildings and 24 Housing Custodians. E & G buildings are divided into four cleaning areas called zones consisting of eight to 11 buildings. Each zone has a cleaning crew responsible for the upkeep of buildings in these areas. The number of custodians per zone is based upon a cleaning area and overall custodial manpower. Services in the dormitories are provided as follows:
Monday – Friday 7:00 a.m. – 4:00 p.m.
Weekends 7:00 a.m. – 4:00 p.m.
Custodians perform the following activities as part of their daily activities in the E & G buildings: above-floor cleaning; removal of refuse and ashes; occasional spot cleaning and dusting of furniture, glass, walls, and other building surfaces; and dust mop or vacuum traffic pattern areas. To obtain special or extra cleaning, an approved work order must be submitted to the work control center at least 30 days in advance. Cleaning services are provided to the following areas in the dormitories on a daily basis: restrooms, hallways, stairwells, lobbies and offices. Work orders are submitted during the year for special cleaning. All dormitories receive a thorough/general cleaning at the end of the spring semester.
Custodians have the responsibility for special events and functions that occur in the academic and administrative (E & G) buildings. These functions include setting up tables and chairs, and any special cleaning required. The Custodial Services division is also responsible for the assembling and disassembling of the stage and basketball floor. To obtain custodial services for any event or function, an approved work order must be submitted to the work control center at least 14 days prior to the scheduled event.