Click on the map for a larger view.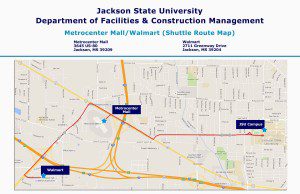 All times shown are departure times.

JSU ID is required to board all shuttles.
Walmart/Metrocenter Passengers: Upon boarding the shuttle, please inform the driver of your preferred destination (Walmart or Metrocenter) for drop-off, and the time you would like to be picked-up. You will be picked up within the time window listed on the shuttle schedule.