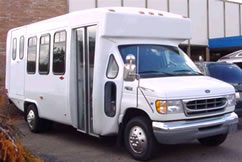 Transportation and Fleet Management
The Transportation unit is responsible for maintaining all University vehicles, vehicle acquisition/deletion, shuttle service, and providing ground transportation for faculty, staff and students on an as needed basis. The Unit is comprised of one manager, one supervisor, three full-time drivers, one small engine mechanic, one maintenance laborer and consultant drivers on an as needed basis.
The University has a fleet of 108 vechicles. During FY'04 the University acquired eighteen new vehicles.