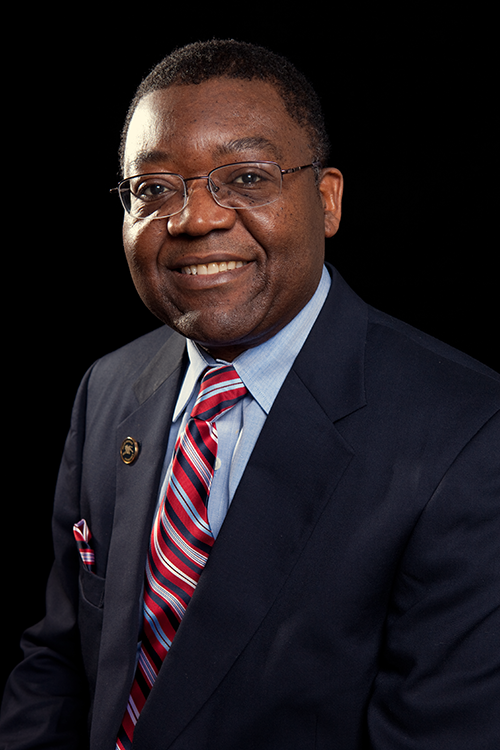 Dr. Paul B. Tchounwou is Associate Dean of Graduate and International Programs in the College of Science, Engineering and Technology. He is a Presidential Distinguished Professor who also serves as Director of DoD-Center of Excellence in STEM Education, Director of NIH-Center for Environmental Health, and Director of Environmental Science PhD Program at Jackson State University (JSU), Jackson, MS. He also serves as Adjunct Professor at Tulane University Health Sciences Center, New Orleans, LA, and Life Member of the scientific faculty of the International Biographical Institute in Cambridge, England.
Dr. Tchounwou joined JSU in 1996 as Director of the doctoral program in environmental science and Associate Professor of Biology/Toxicology, and was promoted to the rank of Full Professor with tenure in 2001. He served as Biology Department Chair from 2004-2006, Associate Dean from 2006-2011, and Interim Dean from 2011-2012. Over the past 16 years, Dr. Tchounwou has devoted considerable effort and energy to the development and success of STEM-related programs at JSU. As Interim Dean from 2011-2012, he provided a strong leadership for maintaining the stability of the College, and for moving its academic programs to new heights. Since joining JSU in 1996, he has secured over $50 million in grantsmanship to support academic excellence.
Dr. Tchounwou is nationally and internationally known for his biomedical research. His work on arsenic trioxide pharmacology and toxicology was recently highlighted in the Fall 2011 issue of NCRR-Reporter Magazine at the National Institutes of Health. Dr. Tchounwou has published 178 refereed papers in top-tiered journals and books. He is Editor-In-Chief of two international journals including the International Journal of Environmental Research and Public Health (MDPI, Basel, Switzerland), and Environmental Toxicology-An International Journal (John Wiley & Sons, New York, USA). He was one of the Section Editors of Encyclopedia of Environmental Health published by Elsevier BV in 2011. He served as Guest Editor for the International Journal of Molecular Sciences; Ethnicity and Diseases; and Journal of Health Care for the Poor and Underserved. He is on the Editorial Board of several other journals including Journal of Cancer Science and Therapy, Journal of Environmental Biology; and Reviews on Environmental Health. Dr. Tchounwou served as Session Chair of scientific meetings, and made over 450 presentations at national and international conferences. This year, he has been selected to serve as Expert Subject Reviewer for the Fulbright Specialist Program.
Dr. Tchounwou has received several awards for excellence in the profession, including the 2003 Millennium Award for Excellence in Research conferred by the Science and Technology Office at the White House; the 2001 National Role Model Award for Exemplary Achievements in Mentoring, Counseling and Guiding Others; the AACR Faculty Scholar Award for Cancer Research; the International Order of Merit for Superb Contributions to Biomedical Sciences; and the Decree of Merit for Outstanding Contributions to Toxicology and Public Health. He is a selected member of Delta Omega Honorary Public Health Society.
Dr. Tchounwou is affiliated with the American Association for the Advancement of Science; American Association for Cancer Research; American Public Health Association;, National Environmental Health association, Society of Toxicology, and New York Academy of Science. Dr. Tchounwou is a Fellow of the American Biographical Institute, and is listed in eight different biographical references of national and international circulations.