JSU MPH Students Presents at Fall 2016 Colloquium
Congratulations to the Master of Public Health students at JSU who participated in the Fall 2016 Colloquium on November 19, 2016. The students did well in presenting their field experience in their respective specializations. The Colloquium is in conjunction with the course PHS 508 Public Health Internship. The students must commit to a minimum of 400 clock hours with a public health organization. The MPH student presentations included:
Christopher Cox – Emerging Health Policy Issues in the Magnolia State
Katherine Ruiz – Imagine Better Mississippi: Simple Better Dentistry – An Oral Health Prevention Project
Tiarra McMillian – Exploring the Associations Between Sexual Behaviors and Spatial Mobility of African American MSM in Jackson, MS
Ryan Lindsey – Promoting Hygiene Amongst Our Youth
Einna Robinson – Assessing Cardiovascular Disease in District 5
Scarlet Fowler – Evaluation of a Wellness Project
Krista Archie – Examining the association among sexual orientation disclosure to parents, sexual risk behaviors, and current sexually transmitted infections among black MSM
Anthony Craft – Policy Implementation of Physical Inactivity within the Mayoral Health Council of Bolton and Edwards, MS
Justin Taylor – Evaluate STD programs for CT/GC among HIV negative MSM as a means to increase HIV testing and findings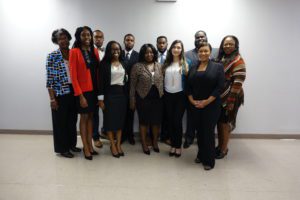 Also in attendance at the colloquium were the student internship preceptors. The School of Public Health Initiative would like to thank the following organizations for giving our students an opportunity to gain public health experience: My Brother's Keeper, Mississippi State Representative Jeramey Anderson of District 110, Office of Community Health (MSDH), City of Grand Prairie Internship, Child & Adolescent Health, Office of Community Health (MSDH), Richard D. Hall Dental Office, and Cross Roads Clinic.
Dr. Sophia Leggett, Associate Professor, Environmental and Occupational Health and MPH Coordinator is the faculty of record for PHS 508. Dr. Delicia McGee is the Field Placement Coordinator. The School of Public Health Initiative places students at a site in the Fall, Spring and Summer semesters. Students usually graduate with their MPH degree the same semester they present at the Colloquium.