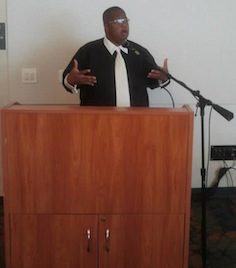 Instructor
Assistant Band Director
601/979-7063
A Memphis, Tennessee native, Rodney D. Chism is a graduate of the University of Arkansas at Pine Bluff in Pine Bluff, AR (BS, 2004), Union University (M.Ed., 2007), Jackson State University in Jackson, MS (MME, 2009), and did some extended studies at Tennessee State University, University of Arkansas at Little Rock, and University of Memphis.  While at the University of Arkansas at Pine Bluff, he served as student director, section leader, and head student arranger.  At Jackson State University, he served as Graduate Assistant and Band Arranger to the Sonic Boom of the South.  Currently, he serves as Assistant Band Director/Chief Arranger of the Sonic Boom of the South, and Director of the Jazz Ensemble II, JSU Pep Band, and JSU Concert Band, and Founder of the JSU Saxophone Choir.
Mr. Chism began a career as a musician in the seventh grade playing the Clarinet at Geeter Middle School (formerly Geeter Jr. High School), under the direction of David Graves.  In high school, he then moved to the Tenor Saxophone, then to Alto Saxophone and continued playing that throughout college.  He studied Saxophone under Blue Bossa's Jeff Huddleston, Dr. Barry McVinney, and Mr. John R Graham, Jr.  He also had the privilege to pursue jazz studies under the late Odie E. Burrus, Jr., where he had the privilege to play in the legendary "Blue Room" in Kansas City, Missouri.  He has been involved in many different honors bands such as; the WTSBOA Honors Band, the University of Memphis All-City Band, the All-West Tennessee Jazz Bands, and the Arkansas Intercollegiate Honors Band. He also had the privilege of playing Saxophone for Bobby Rush, Ellis Marsalis, Al Jarreau, Donald Harrison, Clark Terry, Nyoki and Vivaca A. Fox.
Mr. Chism has extensive experience as a band director in the Memphis City Schools District on all three levels (junior high/middle school, high school, and college.)  He is a superb bandmaster, disciplinarian, motivator, and teacher.  His bands have consistently received superior and excellent ratings at state and local band festivals.  He has also arranged for several schools and universities in the South, Southwest, Midwest, and East Coast regions.  He is most known for arranging UAPB's version of "Neck" and several arrangements for Jackson State including: Coming to America a.k.a. Everything, What's Love Got To Do With It, Capture in the Rapture, and Taxi.  He has also arranged and composed numerous works for Woodwind Ensemble, Marching Band, Concert Band, and Jazz Ensemble. One of his most recent compositions for Jazz Ensemble entitled, The Plaza: "The Cousin of the Tiger Den Blues" was dedicated to the late Nolan Ryan Henderson, III, a JSU student who passed away in 2012.
His professional memberships include: Music Educators National Conference (MENC), North American Saxophone Alliance (NASA), National Clarinet & Saxophone Society (NCSS), College Band Directors National Association (CBDNA), Historical Black Colleges & Universities National Band Directors Consortium (HBCU-NBDC), Mississippi Jazz Foundation (MJF), West Tennessee School Band and Orchestra Association (WTSBOA), Memphis Band Directors Association (MBDA), Memphis Educators Association (MEA), Tennessee Educators Association (TEA), National Educators Association (NEA), Kappa Kappa Psi National Honorary National Band Fraternity, Inc (KKY), and Alpha Phi Alpha Fraternity, Inc. (AFA).