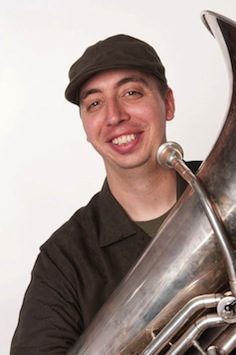 Instructor
Tuba and Euphonium
601/979-1057
Patrick Rettger is the instructor of Tuba and Euphonium at Jackson State University. Along with applied lessons, Mr. Rettger also teaches Undergraduate theory and aural skills classes as well as coaches the JSU Brass Quintet (a select quintet comprised of some of the best musicians on campus) and is conductor of the JSU Tuba-Euphonium Ensemble. He holds a Bachelors of Science degree in Music Education from Indiana University of Pennsylvania, a Master of Music degree in Tuba Performance from the Pennsylvania State University, and will graduate this year with a Doctorate of Musical Arts in Tuba Performance from the University of Southern Mississippi where he also minored in music theory. His primary teachers include Gary Bird, Velvet Brown, and Richard Perry.
Mr. Rettger can be heard on multiple recordings made while at Indiana University of Pennsylvania including "Internal Combustion" (Klavier Records) and "Music of Distinction Vol. III (Daehn Publications). He is also a prolific arranger having written for many types of groups including tuba-euphonium quartet and ensemble, brass quintet, brass ensemble, wind ensemble, and marching band. A number of these arrangements have been performed at international conferences and other high profile concerts including the 2008 International Tuba and Euphonium Conference and the Mississippi Bandmasters Association Conference.
As a performer, Mr. Rettger has been an active across the Eastern U.S. as well as Europe and the Middle East. He was a tubist in the Army Bands in Ft. Hood, TX and Mannheim, Germany. While in these groups, he performed as a soloist as well as a member of multiple groups including the 1st Cavalry Division Tuba Quartet and V Corps V Brass Quintet. Since leaving the military, he has continued to perform with groups throughout each region he is residing in including the Altoona, Meridian, Gulf Coast, and Mississippi Symphonies. Further accomplishments include winning the 2007 Southern Miss Wind Ensemble Concerto Competition and being selected as a semi-finalist in the 2010 International Tuba and Euphonium Association's Mock Band Tuba Competition. Mr. Rettger has also been known to perform Jazz, Blues, Dixieland, and Funk styles having performed with groups such as the New Bourbon Street Jazz Association, the Big Band Funk Band, the Jericho Road Show, and being a current member of the Jackson All-Star Brass Band.