APSA Announces the 2017-2018 APSA Minority Fellowship Program Recipients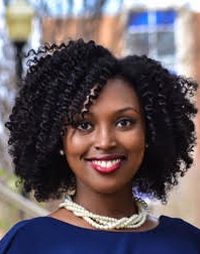 The American Political Science Association (APSA) is pleased to announce that Jasmine Jackson, an undergraduate student at Jackson State University, has been named as a 2017-2018 APSA Minority Fellowship Program (MFP) Fellow.
Jasmine C. Jackson (RBSI 2016) is a senior political science major at Jackson State University where she is a Dean's List scholar. Her research interests focus on how political issues impact minority communities and the effect these issues have on societal placement. In 2015, Jasmine had the privilege of working with Dr. Geoff Ward at the University of California at Irvine on research that examined historical racial violence. Additionally, she attended the 2016 APSA Ralph Bunche Summer Institute at Duke University. Jasmine has presented at various conferences including the 2016 American Political Science Association Annual Meeting the Pi Sigma Alpha student conference, the 2016 Southern Political Science Association conference, and the University of Michigan's Emerging Scholars Conference.
The MFP was established in 1969 to increase the number of under-represented scholars in the political science discipline. Since 1969, the APSA Minority Fellowship has designated more than 500 Fellows, both funded and unfunded, and contributed to the completion of doctoral political science programs for over 100 individuals. Fall fellows are college or university seniors, graduates, or Master's students who plan on applying to a PhD program in political science. Spring fellows are first and second year PhD students in political science. APSA Minority Fellows are very active in the discipline as faculty members, researchers, and mentors. Visit www.apsanet.org/mfp to learn more about the APSA MFP program and recent fellows.
Founded in 1903, the American Political Science Association (APSA) is the leading professional organization for the study of political science and serves more than 13,000 members in more than 80 countries. For additional information on APSA diversity and inclusion programs, please visit us online at http://www.apsanet.org/diversityprograms or email diversityprograms@apsanet.org.
---
Graduate Student
Mr. Ernest Dupree III, Master of Arts student in Political Science from Columbia, SC has been accepted to two (2) Ph.D. programs: University of Nebraska at Lincoln and Georgia State University