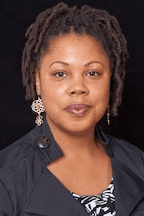 Assistant Professor of Political Science
Email: leniece.t.smith@jsums.edu
Phone: 601.979.7072
Location: College of Liberal Arts 321
Degrees:
The University of Chicago, Political Science, Ph.D., June 2005
The University of Chicago, Political Science, M.A., June 1999
University of Washington, Political Science, B.A., June 1997
Research Interests:
African-American Political Attitudes & Behavior
Race & the Politics of Race
Media & Politics
Political Corruption
Courses Taught:
American Government & Politics
Urban Politics
Blacks and the American Political System
The Politics of Dissent
Race & Racism
Black Culture & Politics
Professional Memberships:
Southern Political Science Association
The Mississippi Political Science Association
Recent Publications and/or Creative Works:
Titani-Smith, Leniece. (2017) "Benefit or Burden? The Influence of Religious Affiliation and
Attendance on African-American Immigration Attitudes," submitted to Western Journal of
Black Studies. (Under Review 2017).
Titani-Smith, Leniece "Bad for Blacks? African-American Attitudes toward Latino Immigration"
(In Progress)
Titani-Smith, Leniece & Rickey Hill. "The Racial Contract: The Case of Ferguson,
Missouri." In Out of the Fire: Readings in Africana Studies. Forthcoming 2017.
(Book Chapter)
Titani-Smith, Leniece. (2016). "Chicago Dailies' Framing of Corruption: 'Operation Haunted
Hall'" Illinois Political Science Review. Volume 2016.
Titani-Smith, Leniece, Nicole Denise Lewis, John Maynie, Kaylon McCou, Roland Swanson &
Raylanakeish Williams. (2013). "I'm Black and I'm Proud": The Centrality of Race and
Racial Regard at an HBCU. A Pilot Study. The Researcher An Interdisciplinary Journal,
Vol. 26, No. 2.
Byron D. Orey, Athena M. King, Leniece Titani-Smith & Boris E. Ricks. (2013). "Black
Opposition to Progressive Racial Policies and the "Double (Non) Consciousness,"
Journal of Race and Policy, Vol. 66.
"Conservative but Not Republican: The Paradox of Party Affiliation and Ideology." American
Review of Politics. Forthcoming December 2017.
"The Black Academics Guide to Winning Tenure–Without Losing Your Soul," Journal of
Political Science Education, Forthcoming 2017.
"The New Black Politician: Corey Booker, Newark and Post Racial America," Journal of Politics,
Vol. 75, No. 04, e40, 2013.
"Painting Dixie Red: When, Where, Why, and How the South Became Republican,"
Journal of Mississippi History, Winter 2013.