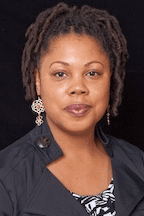 Assistant Professor of Political Science
Areas of specialization include African-American political attitudes and behavior, race theory, Chicago politics, mass media and politics. She received her doctorate in Political Science from the University of Chicago in 2005. Teaching areas include American government and politics, research methods, African-American politics, political dissent, and media and politics. She has published in such journals as the National Political Science Review and the Journal of Sports History. Dr. Smith recently completed a journal article entitled "News They Can't Use: Chicago Dailies Coverage of Corruption," which examines the media's framing of public corruption and its affect on citizens and voters. During the academic year 2011-2012, Dr. Davis worked with a group of JSU undergraduates on a research project that examines the strength of racial identity among Black students attending HBCUs and those attending predominantly white colleges and universities.
Recent Scholarship:
• "Roundtable: 'Ascribed Characteristics: How Race and Gender of the Professor Impacts Classroom Dynamics," Southern Political Science Association, New Orleans, LA (January 2011).
• "Black Support for Racial Policies and the Double (Non-Consciousness) Thesis," with B. D'Andra Orey and Thomas Craemer. Southern Political Science Association, New Orleans, LA (January 6-8, 2011).
Telephone: (601) 979-7072
E-Mail: leniece.t.smith@jsums.edu
Address: P.O. Box 18420
Jackson State University
Jackson, Mississippi 39217