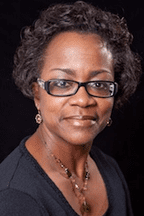 Professor Rhonda Cooper, a native of Jackson, Mississippi, is a 1985 graduate of Millsaps College where she received a bachelor's degree in Business Administration with a concentration in Management. Cooper received her law degree from The University of Alabama School of Law in 1988 and has been actively engaged in the practice of law as a civil and criminal trial attorney since that time. She has represented numerous national and local corporate, collective, and individual interests.
In 2012, Cooper joined the faculty at Jackson State University full time, and she serves the University from the Department of Political Science as a Clinical Assistant Professor and the Pre-Law Advisor. She is a member of the Department's Undergraduate Curriculum Committee and the University's Reading List and Student-Athlete Mentoring Committees. Her projects as faculty advisor to the Fannie Lou Hamer Pre-Law Society include bi-semester lecture series events; service and experiential learning travel; student internships with local attorneys and judges, and public policy agencies; tutorial and mentoring programs for middle and high school students within the Jackson Public School (JPS) District; and mentoring by the Black Law Student Association at Mississippi College School of Law.
The focus of Cooper's research within the academy has been education and outreach. She was a member of the 2012-2013 Cohort of the University's Academy for Research and Scholarly Engagement, and she received one of ten 2013 Presidential Creative Awards for Faculty and Staff for her Enhanced Law School Readiness Program. Cooper has also procured the oral histories of former Mississippi State Representatives Kelvin O. Buck and Kimberly Campbell; these oral histories are housed at the Center for Oral History and Cultural Heritage at the University of Southern Mississippi.
She has authored and presented papers at the annual conferences of the Mississippi Political Science Association and the Southern Political Science Association which highlight education as the agent for economic and political empowerment for African Americans in Mississippi. As a conference panelist, Cooper has discussed the benefits of using oral histories as teaching tools. She has done extensive research on charter schools in Mississippi and has appeared on 'In Legal Terms,' a Mississippi Public Broadcasting legal radio program to discuss Mississippi Charter Schools.
Cooper has volunteered extensively with Jackson Public Schools on various education projects, and she has been recognized for her service to JPS as an outstanding business woman and community leader.
Cooper, a member of the Madison County Chapter of Delta Sigma Theta Sorority, Inc., has one daughter, Caron, and their home is in Ridgeland, Mississippi.