Chair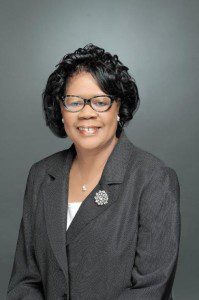 Elayne H. Anthony, Ph.D.
Dr. Elayne H. Anthony is the Chair of the Department of Journalism and Media Studies at Jackson State University.
Anthony, a native of Jackson, MS, is a graduate of Jackson State University.  She received the Ph.D. degree from Southern Illinois University at Carbondale. She was the first African American female anchor, producer, and reporter for WJTV-TV12, the CBS affiliate in Jackson Mississippi.  She has also served as host of her own television program entitled F.Y.I. with Elayne Anthony.
After receiving her doctorate, she returned to Jackson and served as Head of the Department of Mass Communication at Jackson State.  Under her leadership, the department received national accreditation from the Accrediting Council on Education in Journalism and Mass Communication.
After ten years at the university, she decided to practice what she had been teaching.  She was appointed Assistant Superintendent of Public Information and Staff Development for the Jackson Public School District and spokesperson for the JPSD Board of Trustees.  After serving in that capacity for seven years she worked as an educational consultant for a year before becoming Chair of the Department of Communication at Belhaven University.
Anthony was a tenured full Professor at Belhaven University and is currently a tenured Full Professor at Jackson State University. She has served on more than 15 accreditation teams for ACEJMC and has served as a consultant for the Florida and Louisiana Board of Regents on Journalism Education.
Gov. Haley Barbour and Gov. Phil Bryant appointed Anthony to the education task force for the state of Mississippi. She is a member of the Jackson Association of Black Journalists, member of the Mississippi Association of Broadcasters, member of the advisory board for I Heart Radio; member of the Randolph Hearst national scholarship committee and the Board of Visitors for the School of Journalism and Mass Communication at the University of North Carolina, Chapel Hill. Additionally, Anthony serves on the Board of Directors of the Mississippi Association of Broadcasters and the Mississippi Department of Health Board of Directors.
Staff
Faculty
Media Managers
Adjunct Faculty 
Edward Cheshire, J.D.
David Hampton
Galean Stewart-James
Shannon Tatum, M.S.