First Enrollee in BSW Program at JSU -Holmes Campus
July 18th, 2014 by socialwork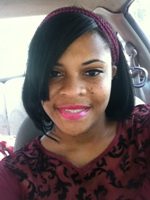 Jasmine Q. Jones, a transfer student from Hinds Community College – Jackson, is the first student admitted to pursue a Bachelor of Social Work (BSW) degree at the Jackson State University – Holmes Community College campus in Ridgeland. She will begin the program on August 25th. Jasmine chose to apply for admission to Jackson State University because of its proximity to Canton, her hometown. Jones selected social work as her major and said, "Since high school, I have always wanted to be a part of the social work profession because I enjoy helping people and want to make a difference in the community.
While majoring in general studies at Hinds Community College, she accumulated a number of credit hours taking social work courses. After browsing Jackson State's website, she noticed classes were being offered for completion of a BSW degree at the Holmes Campus. Jones applied for admission on-line and was referred to Dr. Shonda Lawrence, Interim BSW Program Director. Dr. Lawrence remarked, "The field of social work continues to be one of the fastest growing disciplines in the country. We are excited about our course offerings in social work at Holmes Community College in Ridgeland. It is a great opportunity for increasing accessibility to baccalaureate education in the field."
Dr. Priscilla Slade, Special Assistant to the Provost for Community Colleges, expressed, "We are very proud of the relationship JSU has developed with Holmes Community College. We are elated that this student and others are choosing Jackson State to further their education. The Bachelor of Social Work Program is accredited by the Council on Social Work Education and has been continuously accredited since 1975. By selecting JSU's Bachelor of Social Work program students choose a path to success that not only prepares them to become leaders, but also empowers them to empower others to live productive fulfilling lives."
Jones is the recipient of a Tiger Transfer Scholarship which will cover her tuition fees. She is a first-generation student and the 6th child of 10 girls. Jasmine will be the first in her family to obtain a college degree. Jones expects to graduate in the summer of 2015 and become a licensed social worker.