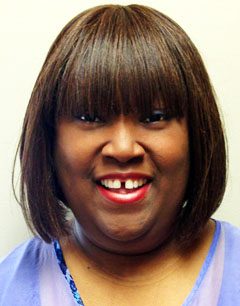 Recently voted most outstanding faculty in the Department of Speech and Theatre at Jackson State University, Dr. Nadia Bodie-Smith is an Associate Professor of Theatre and Coordinator of Theatre Studies in the Department of Speech & Theatre. She holds a a PhD in Fine arts with concentrations in Acting/Directing and Arts Administration from Texas Tech University (Texas), a M.A. in Theatre Arts from Bowling Green State University (Ohio), and a B.A. in Music/Vocal Performance from Florida Memorial University (Miami). She continues to Costume Design and supervise promotions and marketing for all the department's mainstage shows at JSU. She teaches courses in Acting, Directing, Period Styles, Theatre History, Dramatic Criticism and Costume Design.
Her most recent directing projects include: Karma, Harlem Renaissance, and Damn Yankees. Her favorite acting roles include Into the Woods, My Sister in This House, The Dairy of Anne Frank, Amen Corner, Little Shop of Horrors, Vagina Monologues and her one-woman show, I Used to Sing for my Mother/Hoping She Would Love Me/She Bought Me A Mango Tree Instead.
Her main fields of interest are Performance Theory, Directing, Advocacy for the Arts, Feminist Theory, Identity and Gender roles in America, and the African Diaspora, and Theatre for social change. She hopes that her role as an educator will provide an environment to motivate and inspire great leaders, open-minded, creative thinkers and free spirits who laugh a little too loud.