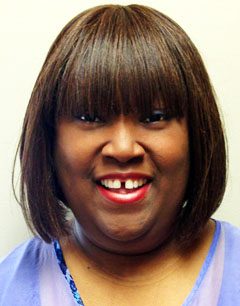 Title:   Coordinator, Associate Professor of Theatre Studies
EMAIL: nadia.c.bodie@jsums.edu
PHONE: 601-979-4309
LOCATION: College of Liberal Arts Room 152
DEGREES:
PH.D., Texas Tech University, Acting/Directing & Arts Administration, 2012
MA.,   Bowling Green University, Theatre, 2002
B.A.    Florida Memorial University, Music – Vocal Performance, 2000
RESEARCH INTERESTS:
Acting & Directing Practice and Pedagogy
Gender, Race, Women and Representation
Feminist Theory and Criticism
Cross Cultural Casting
Musical Theatre Pedagogy
Integrating Theatre across Disciplines
Funding & Advocacy for the Arts
LGBTQ contributions in the Arts
COURSES TAUGHT:
Techniques in Directing
Accents (British, Cockney, Irish, West African)
Advanced Acting
Theatre History
Singing for the Actor
Play Production
Dramatic Criticism
Introduction to Costume Design
Period Styles
Training the Speaking Voice
Intro to Speech Arts
Stage Make up
Stage Combat
Public Speaking
Intro to Shakespeare
Fundamentals of Acting
Independent Study
Introduction to Theatre
MEMBERSHIPS AND PROFESSIONAL ORGANIZATIONS:
New Stage Theatre – Board Member
Association for Theatre in Higher Education (ATHE)
National Association for the Dramatic and Speech Arts (NADSA) Board Member/Journal Editor
Kennedy Center American College Theatre Festival (KCACTF) Region IV
South East Theatre Conference (SETC)
Alpha Psi Omega (APO) Dramatic Honorary Service Fraternity JSU Chapter.
Alpha Psi Omega (APO), Dramatic Honorary Service Fraternity, Interim Secretary, Texas Tech U. (Alumni)
Texas Tech Troubadours (TTT), Performing Arts Recruitment Org. Texas Tech University (Alumni)
Florida Memorial Chorale Music Fraternity, Past President, Florida Memorial University (Alumni)
RECENT PUBLICATIONS AND/OR CREATIVE WORKS:
WRITTEN RESEARCH/COLLABORATIONS
Encore Theatre Journal. Editor. National Association for Dramatic & Speech Arts 2016-2018
General Education Research Initiative Fellowship. Undergraduate Studies, JSU 2015-2016.
My Voice Counts: An LGBT Awareness Project whose goal it is to document and express the unique experiences and concerns of LGBTQ students on an HBCU campus using oral histories to build and create a multimedia production. 2015-2016 Year-long project culminating in a performance at the Creative Arts Festival at JSU.
JSU ROTC Capstone Leadership Development Project. Support to Military Exercise March, 2015
• Collaborative Project between Theatre Dept. & Kids College After School Program -inaugural year-2014-2015
• Sacred Places: Theatres Occupying Abandoned Churches Post-Katrina New Orleans. Co-authors: Nadia Bodie-Smith, Ph.D., Mark G. Henderson, Ph.D. (Working Paper)
• Are We Still Talking About Race? Interracial Marriages in the South. Nadia Bodie-Smith. (Working Paper)
• Stanislavsky Techniques: Multimedia Training for the Young Actor. E-book. (Writing in process)