Career Services Center awarded Enterprise grant
August 5th, 2014 by studentlife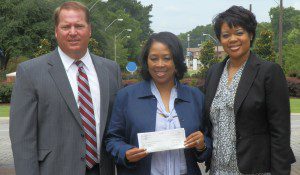 The Career Services Center at Jackson State University was awarded $2,500 from the Enterprise Holdings Foundation, thanks to the corporate partnership between the Center and Enterprise.
This award was presented by Enterprise Regional Vice President Brad Garrison, and April McClung, Regional Talent Acquisition Manager of Enterprise Holdings. McClung is also the person who nominated the Career Services Center to receive the award and has been recruiting top JSU Talent for more than 13 years.
Career Services Center established the Corporate Partners Program as a partnership that will provide more visibility for companies that recruit on our campus and lead to more internship and full-time career opportunities for JSU students, said Lashonda Jordan, director of JSU Career Services.
The Enterprise Holdings Foundation was established to allow the company to give back to the communities where our customers and employees live and work. The Foundation has contributed more than $200 million to thousands of registered non-profit efforts since its inception.