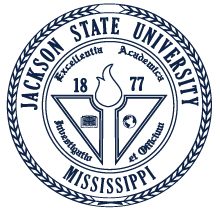 The official Seal of Jackson State University® from 1877  is restricted to official university documents (such as diplomas, certificates, commencement programs) and presidential documents (such as inauguration, event invitations).
The official University Seal should not be altered, misrepresented or distorted. This symbol displays an image of
"Excellence" in its prestigious boundaries. The University Seal should be printed in black or blue ink only, with the exception in instances when printing the seal on t-shirts, pens, portfolios, invitations and business cards, the color silver may be used with approval. Please be reminded that the red flame on the torch was in celebration of the "Centennial Year in 1977" and should not be used in any representation of the University Seal. The official University Seal is a registered trademark of Jackson State University®.