Associate Professor of Industrial Systems and Technology


Program Coordinator of Manufacturing and Design Technology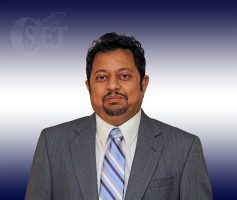 Office: J.Y. Woodard 123
Phone: (601) 979-0327
Fax: (601) 979-4110
Email: mohammed.ali@jsums.edu
Jackson State University
JSU Box. 18480
1400 John R. Lynch Street
Jackson, Mississippi 39217, USA
Education:

Ph.D., University of Arkansas at Little Rock, Little Rock, AR, USA, 2007.
MS, Oklahoma City University, Oklahoma, USA, 2001.
MBA, Asian Institute of Technology, Bangkok, Thailand, 1995.
Graduate Coursework, Bangladesh University of Engineering & Technology, Dhaka, Bangladesh, 1993.
B.Sc., Chittagong University of Engineering & Technology, Bangladesh, 1992.

Research Interests:

Additive Bio-manufacturing and Flexible Manufacturing Systems;
Engineering Graphics, Solid Modeling, CAD, CAM and CNC;
Manufacturing of Drug Delivery Devices;
Advanced Automotive, Manufacturing and Alternative Energy Technologies;
Modeling and Bio-simulation of Submicron- and Nano-particles Flow and Deposition in the Lung Airways.