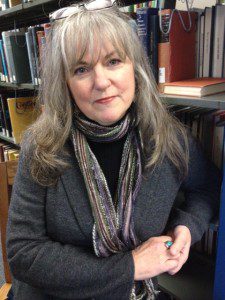 Dr. Kathi R. Griffin was named Director of the Richard Wright Center in 2013. As director, her duties include training graduate and peer writing tutors, teaching composition, and leading writing workshops in the classroom and in the RWC for students and faculty at JSU.
In 2010, Dr. Griffin began teaching full time at JSU in the Department of English, Foreign Languages, and Speech Communication. In 2011 and 2012, she also led ESL/EFL workshops in the JSU Summer Institute for teachers of English from China.
Since she arrived in Mississippi in 1998, Griffin has been actively involved in state and regional conversations about writing. In 2000, she helped found the Mississippi Writing Center Association (MSWCA), and currently serves as Financial Manager. She has also served on the board of the Southeastern Writing Center Association, as well as the Midwest Writing Center Association, and since 2013, she has participated on the planning committee and presented at the Transitioning to College Writing Symposium at Ole Miss. Griffin has published on writing center work, most recently in Composition Studies 44.2, and presented at state, regional, national, and international conferences, including IWCA 2015 and CCCC 2016, often in collaboration  with her colleague Dr. Tatiana Glushko and with tutors. Over the years, Griffin has also been the keynote speaker at Ittawamba Community College Conference for High School Teachers and an invited speaker at the Mississippi Two-year College Association conference and the National Commission on Writing Southeastern Regional Conference.
Ph.D.     Teaching and Learning, University of Iowa, 2008                                                                                                   Dissertation: Fundamental Divide: Competing Literacies in the Composition Classroom
M.A.T.    English Education, University of Iowa, 1995
B.A.       English, with distinction, University of Iowa, 1992