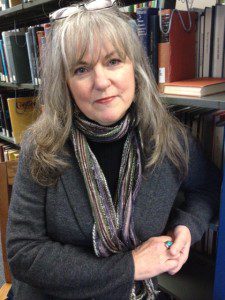 Dr. Kathi R. Griffin was named Director of the Richard Wright Center in August 2013. As director, her duties include teaching composition, training graduate and peer writing tutors, and leading writing workshops in the classroom and in the RWC for faculty, staff, and students at JSU.
Prior to coming to JSU, Dr. Griffin served as assistant professor of English and writing center director at Grand View University, Des Moines, Iowa (2008-2010). From 1999-2008 she was assistant writing program director and writing center coordinator at Millsaps College, Jackson, MS. Most recently, Dr. Griffin taught full time in the Department of English and Modern Foreign Languages at JSU (2010-2013). Her classes included Composition I and II, World Literature, and Advanced Composition. Since 2011, she also participated in the JSU Summer Institute, where she worked with teachers of English from China, particularly Nantong University.
Griffin holds a Ph.D. in Teaching and Learning from the University of Iowa (2008), where she also earned a Master of Arts degree in Teaching (1995) in English Education, and a Bachelor of Arts, with distinction, in English. She is a founding member of the Mississippi Writing Center Association (MSWCA) and has been actively involved in state and regional conversations about writing. She has served on the board of the Southeastern Writing Center Association, as well as the Midwest Writing Center Association, and has published on writing center work and presented at conferences with her peer tutors. Griffin has been the keynote speaker at Ittawamba Community College Conference for High School Teachers and an invited speaker at the Mississippi Two-year College Association conference and the National Commission on Writing Southeastern Regional Conference. In 2013 and 2014 she presented at the Transitioning to College Writing Symposium at Ole Miss. Also in 2014, she published on Irish author George Moore (Oxford: Peter Lang), and she was appointed Treasurer of the MSWCA, a four-year position.