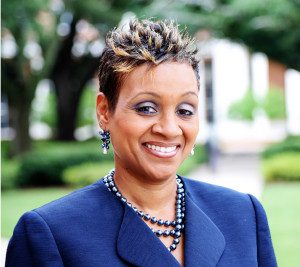 Dear Alumni:
It is an honor and pleasure to serve as the Director for the Department of Alumni and Constituency Relations. As your ambassador, I look forward to working with you and other supporters to implement growth and innovation as we engage current and prospective alumni.
As your liaison, I have maintained an extremely busy schedule, meeting with and learning from alumni, students, faculty and staff. I vow to continue working tirelessly to keep you apprised throughout the year of our many services and activities.
To give you more insight into my background, I am a 2006 graduate of Jackson State University. However, my affinity to this great institution stretches back decades. In addition, I have more than 16 years of experience in higher education – 10 years in student affairs and four years cultivating donor relations. My previous experiences include developing and enhancing student initiatives/activities and securing more than $1 million in support for our beloved alma mater.
I do not take the role of Alumni Director lightly and will serve present and future students. Intertwining our experiences and expertise, we will share and collaborate on ideas about best practices to support the Jackson State University National Alumni Association, Inc.
I eagerly anticipate a future visit with alumni in various areas to discuss plans for advancing the goals and vision of JSU and celebrating the results.
Together, we can rev up excitement, explore future possibilities and inspire dedication to Jackson State University.
Thank you for your support and commitment, for we are "One JSU!"
Sincerely,
Tabatha "Tammy" Terrell-Brooks
Tabatha "Tammy" Terrell-Brooks,
Director, Alumni and Constituency Relations
Executive Director, JSUNAA, Inc.