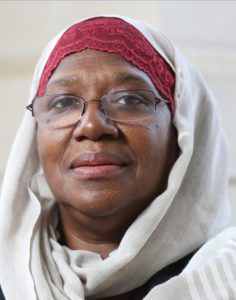 Assistant Professor​ of Foreign Languages
Email: gsakinah.abdur-rashied@jsums.edu
Phone: 601.979.2269
Office Location: Dollye Robinson Liberal Arts Building Room 441
DEGREES
Ed.D., Jackson State University, 1999
Dissertation: Foreign Language Students' Beliefs about the Long-
Ranged Effects of Foreign Language Study
Major Field: Early Childhood Education, Secondary Fields: Foreign
Language Acquisition and Global Education
M.A.T. French, Jackson State University, 1984
Major Areas: French language and Afro-French Literature
B.A. French/Spanish, Jackson State University, 1971
RESEARCH INTERESTS
Primary research interests are Second Language Acquisition, and the Languages and Comparative Literatures of Francophone West Africa, North Africa, and other African women writers.
CERTIFICATIONS
Certification of Completion – 3 year Online Fusha Quranic Arabic (June, 2017)
Certificate Canvas Training, JSU (June 2017)
RECENT PUBLICATIONS
Book Chapter:
2016. "Commodification of Women: Reactions and Rebellions Viewed from Selected
Texts," pp. 61-72. Helen Chukwuma and Preselfannie McDaniels (eds.). In Meeting Points in African and Africana Women's Literature. Africa World Press.
COURSES TAUGHT
FR 101/102 Elementary French
FR 201/202 Intermediate French
FR 230 231 French Culture and Civilization
FR 322 Composition and Conversation
FR 431 Advanced French Culture and Civilization
FR 313 Advanced French Grammar
FR 330 French Conversation
SP 101/102 Elementary Spanish
SP111/112 Elementary Spanish
PROFESSIONAL MEMBERSHIPS
Mississippi Foreign Language Association (MFLA)
American Council on the Teaching of Foreign Languages (ACTFL)
Southern Conference on Language Teaching (SCOLT)
Pi Lambda Theta, International Honor and Professional Association
Kappa Delta Pi, National Education Honor Society
Alpha Mu Gamma, National Foreign Language Honor Society