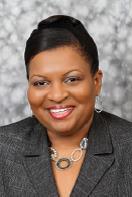 Annie Partee serves as the Director of Minority/Women Business Enterprise Department for the Dallas Independent School District. She has received the following professional accolades and awards: Certified Texas School Business Specialist, Compliance Administrator, Master Compliance Administrator, Minority Business Leader Award, DFW Native American Chamber's Special Recognition Award, 2016 Jupiter "Most Supportive Leader" Award, and numerous Minority/Women Business Enterprise Advocacy awards. She is a member of the Board of Directors for the North Central Texas Regional Certification Agency.
Annie is a native of Tallulah, LA. While attending Jackson State University (JSU), Annie Holmes was blessed to fulfill one of her childhood dreams. During Spring 1987, she was initiated into the Gamma Rho Chapter of Alpha Kappa Alpha Sorority, Inc. In 2014, she reactivated with Omicron Mu Omega Chapter and serves on the Membership Committee and Devotion Committee.
During Spring 1989, Annie received her BS in Accounting from JSU and graduated magna cum laude. She is a life member of JSUNAA and serves on the Membership Committer for the JSUNAA Dallas – Fort Worth Chapter.
Annie and her husband Anthony Partee Sr. have been married for 25 years. They have been blessed with a daughter: Santana, two sons: Anthony Jr. and Antoine (who's a current JSU student), and two grandchildren: Skylyn and Booker.
Annie is active member of the Westside Baptist Church in Lewisville, TX and actively serves as a facilitator for the Kingdom Connection Hour. Some of her ministry engagements include but are not limited to: the Union Gospel Mission, Center of Hope, Christian Community Action, Operation Care, Women Running with Authority, etc.
Annie's recreational activities include vacationing, shopping, and enjoying family and friends.