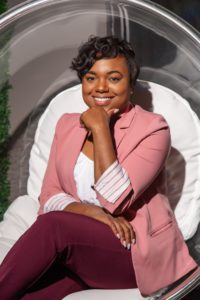 Public Service and Advocacy is everything Shalonda Spencer stands for. She is a graduate from Jackson State University and the Advocacy Coordinator for ACLU of Mississippi, where she focuses on the affiliate's criminal justice reform and voter rights centers of work.
While an undergraduate student Shalonda worked as a volunteer for former President Barack Obama's campaign, which ignited her fire in public service. She was a part of various organizations and earned membership into The National Honors Society of Leadership and Success. After completing her undergraduate courses a semester early, she participated in Jackson State's International Program and studied abroad in Bluefield's, Nicaragua. In 2012, Shalonda graduate with a B.A in Criminal Justice. After graduation, she took an overseas assignment as a government contractor in Shindad, Afghanistan. She was able to visit places like Moscow, Russia, and Kyrgyzstan.
In 2014, Shalonda started her Master's Program in Public Policy. While a graduate student she earned membership in Global Key International Honors Society and was a graduate assistant for The Fannie Lou Hamer Institute @ COFO, where she educated local and long distance visitors on the Civil Rights Movement of Mississippi. Shalonda served as the Ward 4 Deputy City Clerk for the City of Jackson where she coordinated civic engagement projects throughout the district. Her experience organizing communities led her to become a campaign organizer for Senator Bernie Sanders' 2016 presidential run in Hampton Roads, VA.
While studying public policy Shalonda wanted to take her previous international experience and view policy from a global lens. She moved to Washington, D.C. where she earned a fellowship position that allowed her to work at Mennonite Central Committee as a Foreign Policy Analyst. She evaluated issues and initiatives on overseas countries such as Latin America, North Korea, Colombia, Afghanistan, and Haiti. She launched an online advocacy campaign and published an article about Haiti to raise awareness of the lack of response from the United Nations and the U.S. government to the plight of cholera victims and their families.
After the fellowship, she was offered a position to serve as a Legislative Assistant for the United States House of Representatives for the 2nd Congressional District for the state of Mississippi. Her legislative portfolio consisted of women rights, social justice, foreign affairs, immigration, healthcare, and education. She was an active member of the Congressional Black Associates and Jackson State University Alumni – Greater Washington D.C chapter. Prior to ACLU, Shalonda was the Policy Coordinator for Mississippi Black Women's Roundtable where she continued her focus on women's rights such as equal pay.
She now has a podcast called Politics and Empowerment with Shalonda Spencer where she educates the public on policy issues. Shalonda is the owner of Sor Consulting Group, a policy and political firm that allows her to work on different assignments with other organizations and businesses.
She was awarded the Academic Advancement, Leadership and Civic Engagement Award for Northeast Mississippi Student Leadership Conference. She currently serves as the 2nd Congressional District Representative and Women's Caucus Chair a member of the Young Democrats of Mississippi. She is the Secretary-elect for Hinds County Federation of Democratic Women, a member of Hinds County Democratic Executive Committee, and a proud lady of Zeta Phi Beta Sorority, Inc.