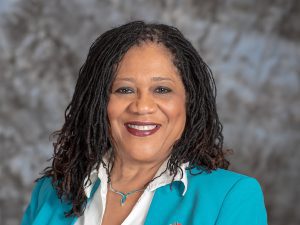 Attorney and activist, Shelia Bryant, is a proud 1977 graduate of Jackson State University with a B.S. in mass communications. Bryant commissioned through Marine Corps Officer Candidate School in 1982 and was awarded a Bronze Star for her service as Advisor to the Iraqi Ministry of Defense. Bryant retired in 2012 as one of only a handful of African American female USMC colonels before returning to school at Harvard to brush up her skills to run for Congress.
Bryant attended law school while serving in the USMC Reserves and practiced law as a solo practitioner in Oceanside, CA after briefly working as a Deputy DA. She was very active in social justice and community issues was one of the first women to ever hold membership in the local JAYCEES. She was also an active member of NAACP and helped to organize the largest Juneteenth Celebration in the city with over 50,000 participants in the two-day event.
Bryant has always focused on improving the lives of everyday people, having been tutored at the knee of her uncle, C.C. Bryant, a Civil Rights icon in McComb, Miss. Shelia was selected as North County NAACP's "Woman of the Year" in 1995; and "Military Person of the Year" in 1997; and was elected to sit on the Board of Directors of Tri-City Hospital, one of the largest employers in the area, focused on issues such as access to quality healthcare, improving maternal health and ensuring the county's pediatric unit remained viable and available to all citizens.
Mobilized during Operation Iraqi Freedom, Bryant served as the Inspector General for 1st Marine Expeditionary Force, under the leadership of General James Mattis. She deployed to Iraq in 2007 and worked as Advisor to the Iraqi Ministry of Defense and Minster of Interior to help implement anti-corruption measures and incorporate the rule of law in the Iraqi government. Stationed in the so called "Green Zone", Bryant was under constant mortar and rocket attack and witnessed the death and injury of many of her colleagues. Her experiences during the war fortified her objection to U.S. participation in foreign wars with dubious purpose and ill-defined goals.
Following her return from Iraq, Bryant accepted a position with the United States Navy as the Inspector General at the Naval Facilities Engineering Command at the Navy Yard in D.C. She and her family relocated to Upper Marlboro, Maryland where she became an integral part of her community – a volunteer and activist in Prince George's County and a member of a number of national and community organizations such as League of Women Voters, Maryland Bar Association, National Action Network, National Council of Negro Women, #Cut50 and FAMM (Families Against Mandatory Minimums).
Bryant recently graduated from Harvard Kennedy School with a master's in public administration. Her intention is to use the skills as a lawyer, a leader and public servant to advance social justice and help improve the quality of life for the citizens of Maryland and the United States. Her 2020 bid for Congress in Maryland's 4thDistrict was unsuccessful, however she has redoubled her efforts to make a difference in the world.