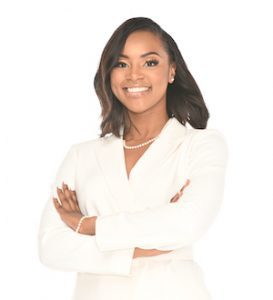 Walker completed her primary and secondary education in Canton Public Schools. She graduated from Canton High School as salutatorian and was a member of the Student Council, Beta Club, National Honor Society, Foundation Club, Superintendent Student Advisory Council and Math Club. She also served as Miss Freshman 2010-2011; Miss National Honor Society 2011-2012; Miss Student Government Association 2012-2013; and Miss Canton High School 2013-2014; along with receiving accolades in both band and track. During her first year as an educator, Walker received Teacher of the Year and became a Teacher Champion for Algebra during her second year. As a professional educator, she specializes in teaching mathematics and assisting students with passing statewide assessments.
While at Jackson State, Walker served her campus and class in several capacities. Her first step towards creating a Jacksonian legacy started with acceptance in the Summer Bridge Program where she served as the math tutor for college algebra and trigonometry. She also received an accolade for being valedictorian of her college algebra course. During her freshman year, Walker served as a researcher for Progress in Integrating Technology in the Teaching and Learning of Mathematics as an HBCU scholar. During her sophomore year, she served as a researcher for EXTREEMS-QED Scholar (Expeditions in Training, Research and Education for Mathematics and Statistics through Quantitative Exploration of Data). She is a member of Zeta Phi Beta Sorority, Incorporated, the Lambda Beta Chapter, where she exemplifies Scholarship, Service, Sisterhood, and Finer Womanhood. 
As the 78th Miss JSU, Walker continued her legacy of service to peers via her platform "Project: F.A.M.I.L.Y., an acronym for "Forming an Alliance while Maintaining Individualism and Leading the Youth." The project focused on allowing students to build "connect groups" with other individuals who share similar interests, highlighting students' talents and interests through events where they could display their skills while connecting with others from artistic perspectives and involving community engagement, mentorship, and tutoring opportunities.
As a graduate student, Walker served as a STEM STARS Scholar (Science, Technology, Engineering, and Mathematics Scholars Teacher Academy Resident System); U.S.PREP Scholar (University-School Partnerships for the Renewal of Educator Preparation); Graduate Assistant of Disability Services and ADA Compliance; and Mathematics Tutor for the Upward Bound Program of Tougaloo College. Her ultimate goal is to become a catalyst leader to provide a listening ear to individuals and better serve the community. As the sales and marketing director of WONG 105.5 FM/ 11150 AM, she is continuing her journey.
During her reign as Miss JSU, Walker founded Finally First, a mentorship program that provides personal and social development opportunities while learning the importance of self-worth, self-love, and self-care. Also, as a brand ambassador of Ora's Closet Boutique, she gives women an idea of what feminism looks like in fashionable clothing.
Walker knows God is the only man from whom she seeks validation and this is what encourages her to become a believer, inspirer and servant of others. She lives by the Zeta mantra that 'all is conquered by labor.'