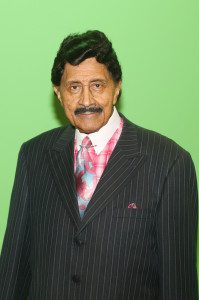 It was a cold, cloudy Monday afternoon when Edward S. Bishop Jr. visited the office of Alumni and Constituency Relations to reminisce about the history he made after graduating from Jackson State University in 1956. He stepped in to the office, his hands full carrying a briefcase and an umbrella to protect his sharp tan and black suit and dark wavy hair from possible rain. He greeted the people in the office with his smooth announcer-like voice. This distinguished voice belonged to the first African American to grace the televisions of Mississippians in the late 1960s.
How did you become the first African American on T.V. in Mississippi?
There was an orchestra that was invited to do a Saturday show on television called the Duke Hudleston Show. They were a noted orchestra here at that time. He (Duke Huddleston) asked me to be the MC for that show. And I sort of did like what Don Cornelius was doing. I was teaching at that time at Jim Hill High School. Huddleston asked me, "Why don't you bring some of the students to dance on the show?"
After I did that a while, the management from the station (Channel 12) asked me if I would bring in gospel music from the black community. I told them I would bring in music from our community, but not just gospel. They said, "Well, blacks like gospel." I said, "So do whites." And that was important to me. Because you see, black people can do more than gospel. We all respect and we love gospel, but my feeling was, here's an opportunity. They're asking me to come bring music in every Sunday. When they asked me what kind of music did I want to do, I said black people can participate in any kind of music you can dream of. I think I told them "from Beethoven to Little Willie John". Finally they relented and said, "Handle it the way you want to handle it." We named it Songs for Sunday. I had every kind of music. I had operettas. I had opera, oratorios, choral, and featured talented people in the community. I did that for at least 14 years.
What would you show on Songs for Sunday?
If there was a great church choir in Jackson, I did the choirs that sounded like the choir of Westminster or Mormon Tabernacle. That's what kind of choirs I bought in out of the community of Jackson.
Then I had a lady that taught at Jackson State for a while, she did Mozart's Hallelujah. That was great. And then Ernestine Ross appeared on the show. She was quite a pianist and she still is. Then Tougaloo did my Christmas show.
Jackson State bought their choir too. I did every piano recital that Jackson State had. And I had the percussion ensemble from Jackson State.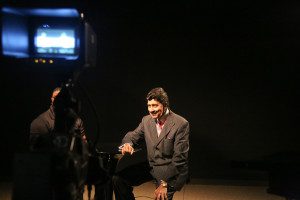 What do you think that type of exposure did for Jackson State during that time?
There was nothing in this world, no where around, showing that type of thing to the community and I happened to have gotten the opportunity.
How did that make you feel to have the opportunity to do something like that?
You make me go to tears almost. I wanted to do it because when they asked me, the first thing I thought about when they said bring gospel music was, "We're known for that here. That's all the time." So I pushed the issue and the station managers said, "Do it like you want to do."
What else would have made people consider you a trailblazer?
During those times, nobody was saying anything about the sports in the black high school. We were winning games and this particular time Jim Hill won the national championship (football). Nowhere in the news was it talked about it. I went to the Principal and said, "Mr. Marshall Sir, would you allow me to go to the station and see if I can get this on t.v.?"
He (Luther Marshall) said, "They ain't gone let you do that."
I said, "Sir would you allow me to try?"
He allowed me to try so I went to Bill Goodrich, the head of the sports department at WLBT, and I asked him and he said, "Well, you'll have to script it and you'll have to edit the film." That was no problem. The coach and I got together and we scripted and edited the film and I told the principal. He certainly wanted to check it. And he said, "You know they're not gone show that. You know these white people not gone show that." And I said, "Mr. Marshall, you give me permission to go down there. I believe they gone show it. Because I'm going to see that they show it." And sure enough, they showed it.
The people of Jackson thought it was the greatest thing in the world! These black guys showing highlights of a black high school football game! They had never showed anything like that before. My problem was I couldn't see so stories many existing just going untold. So going back to that t.v. stuff, when they tried to put in the paper that I was the first (AA on t.v. in Miss.), I said "Please don't do that." Dr. King and Medgar Evers were the firsts. I was simply a recipient of their efforts. And many people were given the credit for being the first because I never would allow it to be published.
So has it ever been documented that you were the first?
Oh yeah, I was on there for 15 years, that's document enough. Everybody saw it but I didn't allow them to say I was the first.
After you did that first sports package, you did the news?
Yes, I became the first to ever anchor news in much of the south as a black man. I got my training as an athletic announcer when I was at Jackson State. I announced for the band, I announced for the football team. I remember, I'll never forget the first one in fact:
"Good evening sports fans of Jackson Mississippi. Tonight the Grambling Tigers and the Jackson State Tigers will meet on the field of play to determine who will win the SWAC. Coach Meridith, Coach Wilson, and Coach Coleman says it's a new day in Mississippi and Jackson State for football."
How many years did you do the news?
About 10. They came to me (WJTV). One problem I have with a lot of people today is that they're so glad to be there, they'll just accept anything. They came to me and asked me to bring in stories from the black community. Not to do the news, but bring in stories from the black community. That is, you know, they had a church supper over at Mount Nebo and all that kind of mess. I said, "The news in the black community is the same as any other community in Jackson." And so he (station manager) said, "Well what do you want done?" and I said "Well I'll only anchor like the rest of these guys here." So my point was to quit being so happy to do it that you take anything.
How do you feel Jackson State prepared you for the history that you made?
It's almost inexplicit but I'm going to tell you why. Number one- Jackson State had, when I was in college, a national program out of alumni auditorium (Rose McCoy Auditorium), the NBC news of the air. I can't think of the name but that's where the NBC television network came to Jackson State, on that stage up there, and broadcast the show from Jackson State. It was nightly news that came on every Sunday night. This particular night they broadcasted from Jackson State. The students had an opportunity to ask questions and I asked a question.
Jackson State gave me the where-with-all to know that when history is being made, participate.
Are you proud of how far Jackson State has come?
It is an elation that is beyond compare. I ride the freeway over there and I look at the campus and there's only one problem. I can't find any sign that was here when I was here!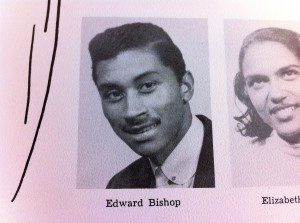 Quick Facts about Edward S. Bishop Jr.

-Received bachelor's degree in fine arts in 1956 and a master's degree in education from JSU in 1975.
-Taught government, history and art at Jim Hill High School.
-Anchored news at WJTV for 10 years.
-Initiated into the Alpha Beta Chapter of Phi Beta Sigma while at JSU.
-Was a cartoonist for the Blue and White Flash.
-Ran track at JSU.
-His family includes four generations of Jacksonians, including his mother, father, siblings, children, nieces, nephews and grandchildren, who currently attend JSU.
-His father served as JSUNAA president.