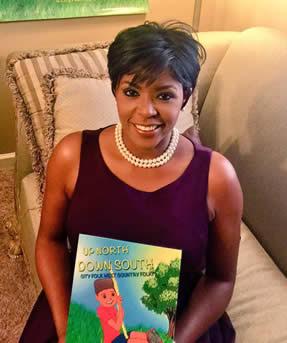 JSU alumnae Katina Rankin is an Emmy-nominated television news anchor and now achildren's book author.
Katina Rankin is co-anchor of Local 24 News weekdays at 5:00pm, 6:00pm, 10:00pm and the CW30 News at 9:00pm.
"Up North, Down South", is a new children's book by Katina Rankin that addresses still- too-common misconceptions about the south. "Up North, Down South: City Folk Meet Country Folk", is a book that shows young people it doesn't matter your geographical area, we are more alike albeit southern or northern.
"This book takes children on a journey across Mississippi, while addressing still-too- common misconceptions about the state in an age-appropriate manner. This book entertains the reader while showing that Mississippi is a wonderful state with wonderful people. I believe this book will instill pride in Mississippi's children, as well as help the children outside of our state gain an
appreciation for "Up North, Down South" is a chapter book for children Pre-K through 5th grade with global themes and relevance.
Katina is a native of Magee, Mississippi. She received her master's degree in broadcast journalism from Jackson State University. Most recently, Rankin was the anchor of the top rated morning news at WLBT-TV in Jackson, MS. She has held similar positions at: WSMV-TV Nashville, TN; WTVD-TV Raleigh-Durham, NC; and WAPT-TV, Jackson, MS.
Katina is a member of Alpha Kappa Alpha Sorority, Inc., the National Academy of Television Arts and Sciences and the National Association of Black Journalists. She has been recognized for her reporting by the Associated Press multiple times. Rankin is the recipient of the Martin Luther King, Jr. Community Service Award, the Athletes for Progress Award and has been honored by many other prestigious organizations. Rankin has also been named Mississippi Woman of the year.