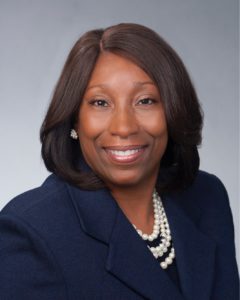 Dr. Debra Mays-Jackson, a Terry, Miss. native, is the Vice President and Chief of Staff for Jackson State University. In addition to her role of supporting the President, she provides oversight of the Department of Public Safety, Title III, Student Affairs, Internal Audit, and Government Relations. She gained valuable experience in higher and secondary education, having served most recently as the first woman Vice President of Hinds Community College-Utica Campus and as the first African American female on the Hinds Community College President's Cabinet. There, she supervised operations of the Utica and Vicksburg-Warren campuses and was responsible for administrative services at all six HCC campuses that included EEOC, affirmative action and civil rights.
Dr. Mays-Jackson's professional tenure in administration at Hinds resulted in the following achievements – increased enrollment at the Utica and Vicksburg campuses, with Utica experiencing a 37 percent hike in 2016-17, re-established the agriculture program, ( which is the historic foundation of the Utica Campus) increased external funding to more than $8 million, including financial support from the U.S. Department of Education and the National Science Foundation; managed the Utica Campus's HBCU Title III funds (which facilitated an $8 million renovation of the Student Center), $2 million Cosmetology,and Barbering facility and installed the Utica Campus's first Marquee.
Dr. Mays-Jackson established the "Vice President's Scholarship and Hall of Honor Gala" recognizing Utica Campus Alumni and Community Supporters. It raised more than $100,000 in scholarship funds in just two years. At the Vicksburg Campus, she led the campus to a 75 percent increase in program offerings for the Vicksburg – Warren School District and partnerships with industry along the Mississippi River in Vicksburg. In collaboration and support of the Vicksburg-Warren School District, she helped facilitate the acquisition of 10 million dollars for a multi-purpose complex and the establishment of the River City Early College. Dr. Mays-Jackson earned a Bachelor of Arts in music for piano performance, a Master of Arts in music education and a specialist degree in education administration from Jackson State University.
In addition, she earned a doctorate from Mississippi State University in education administration and supervision. An active member of the community, she supports many groups and organizations with her passion of educating in mind. She also serves on the board of the Mississippi Department of Education Teacher Licensure Commission, United Way of the Capital Area; and is a member of The Mary Church Terrell Literary Club, Inc. She also published and contributed to articles in the following Journals: "Journal of Rural Education Policy and Practice" (2016); "International Journal of Research and Education Perspectives" (2017); "Journal of Leadership and Interdisciplinary Research in Education" (2018).

She is married to G. Torrie Jackson, Jr., and they are the parents of two sons, Cameron and Kendall.