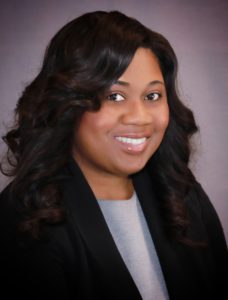 Attorney, Jamita Elmore Gilleylen is a graduate of Jackson State University where she received her B.A. in Political Science in 2008 and her Juris Doctorate in 2011 from Southern University Law Center. She started her own law practice in 2014. When starting her practice, she kept in mind a quotation that she often heard from a negro spiritual which was spoken by Rev. Dr. Charles K Chiplin, "If I can help somebody as I pass along, then my living shall not be in vain."
In her practice, she strives to help others daily. Attorney Gilleylen, a general practice attorney, practices law in Warren County and neighboring areas. However, her heart is with the Warren County Youth Court where she routinely serves as a Juvenile Defender and Guardian Ad Litem. Her hope is that if she helps the youth, they will not become part of the adult criminal system. She was recently recognized for her works by the Mississippi Business Journal and was named one of the "Top 50 Leading Business Women" in Mississippi.
During her spare time, she tutors children in reading and serves as a mentor to teenage girls. She instills in them the importance of having good character and a strong work ethic. She also serves as the Youth Director at her church New Zion Missionary Baptist Church. Gilleylen is also a campaign manager with her local United Way.
She enjoys spending quality time with her family and friends. Attorney Gilleylen shares a fondness of traveling and community involvement with her husband, Orlandress.