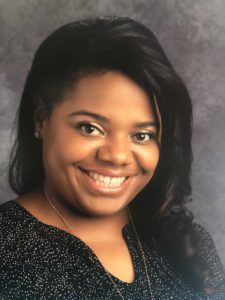 Jackson State University has always held a special place in the heart of Lauren Morris-Miller. Beginning at a young age, Lauren developed a strong love for her Dear Ole College Home as she witnessed her aunts and uncle graduate – Dr. Sophia Leggett ('86 and '88), Jacqueline M. Hatchett ('91), Danderia S. Trotter ('94), and Daryle Morris ('94). A native of Brookhaven, Mississippi, obtained her Bachelor of Science in Mass Communications with a concentration in Public Relations and a minor in Marketing graduated Summa Cum Laude in 2008. Lauren held memberships in Alpha Chi Honor Society, W.E.B. Du Bois Honors College and National Association of Black Journalists. She joined the Gamma Rho Chapter of Alpha Kappa Alpha Sorority, Inc in Spring 2006.
After graduating from JSU, Lauren enrolled at Texas Woman's University in Denton, TX where she obtained her Master's of Science degree in Counseling & Development. While at TWU, Lauren earned membership into Chi Sigma Iota Counseling Academic and Professional Honor Society and Phi Kappa Phi Honor Society. Currently, Lauren is an educator in the Little Elm Independent School District in Little Elm, TX. A Kindergarten teacher and mentor to students, she serves on several committees, such as the Campus Leadership Team, Occupational Health Committee, Positive Behavior Intervention & Support Team, and Lobo Cares Committee. She also serves as a Cooperating Mentor to student teachers and serves as the Director for the Lobo Zone After School Tutoring Program.
Although Lauren is involved with committees, her greatest joy is building relationships with the students and parents who walk in and out of her classroom each year. Because of her outstanding commitment and dedication to her school, Lauren was recently named Teacher of the Year for 2018 – 2019 School Year. Within the community, Lauren has served several local churches in the areas of Public Relations and Communications, as well as volunteering in the area of youth ministry. Recently, Lauren served as a panelist for the HBCU Panel and Scholarship Search Party hosted by Dymensions Academic Center in partnership with the Omega Alpha Omega Chapter of Alpha Kappa Alpha Sorority, Inc. The purpose of the panel was to encourage high school students to attend an HBCU.
She is a member of Amazing Church in McKinney, TX and has been married to her college sweetheart, John Miller, for nine years. Together, they have one son, Preston.