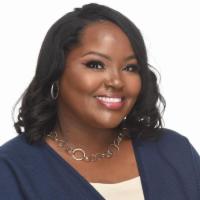 Antoinette R. Silas, a native of Jackson, Mississippi by way of Laurel, Mississippi, continued the legacy in her parent's footsteps, Angela Anderson ('95) and Terrance Evans ('94). She also attended Jackson State University and received her B.S. ('09) and M.S. ('11) degrees in Computer Engineering with a minor in Mathematics. She is proud to be the bridge in continuing the family tradition as her sister, Anaiah Evans is currently a freshman at Jackson State University.
Antoinette is currently employed as a computer engineer at the U.S. Army Corps of Engineers, Engineer Research and Development Center, Information Technology Laboratory (USACE-ERDC-ITL) in Vicksburg, MS for 8 years where she works in the Supercomputing Research Center. Her research areas have included high-performance computing and human-computer interaction.
Antoinette never turns down an opportunity to support Jackson State University. She recently presented a talk about engineering at the West Point Leadership Ethics and Diversity in STEM (LEADS) Workshop hosted at JSU. There were over 250 attendees which included military personnel, West Point Cadets, collegiate mentors, Jackson Public School teachers, and JROTC students.
Antoinette engaged the teachers with information about opportunities at USACE-ERDC and the field of engineering. Antoinette discussed engineering disciplines, research areas, ERDC summer programs, and her personal journey from high school to becoming an engineer. She concluded with inspiring the teachers and counselors in attendance to encourage their students to pursue a degree in engineering and attending Jackson State University.
While at Jackson State, she served in the Student Government Association, National Pan Hellenic Council, and other clubs and organizations. Antoinette became a member of Zeta Phi Beta Sorority, Incorporated – Lambda Beta Chapter in the Spring of 2006. She continues in her commitment to leadership and service. She is also a current member of the Tau Upsilon Zeta Chapter located in Clinton, MS.
Antoinette loves being a voice for women empowerment; this is expressed in her company, Just AS Beautiful, LLC and her philanthropic work with Miss Plus America. Just AS Beautiful is a luxury makeup studio based in Clinton, MS, Antoinette also serves as the 2019 Mississippi State Director for the national Miss Plus America Pageant System.

In her free time, she enjoys spending it with her husband, Johnathan Silas (JSU '09) and their five-year-old son, Johnathan, Jr.